PM's 'mixed messages' puzzle papers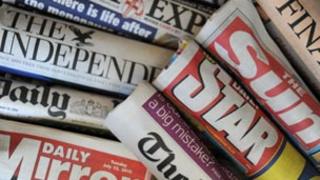 With David Cameron in Africa, talking of the need to confront the threats to be found there, the Daily Mirror argues that his policies on defence are in chaos.
The Times - as it tries to make sense of "a day of mixed messages" - concludes that "military spending is under immediate threat."
A cartoon in the Independent also seeks to cut through the seemingly contradictory statements being made.
It shows pairs of empty boots in the desert - and the defence secretary reporting that equipment spending has been maintained "but all squaddies sacked" - "carry on sergeant," replies Mr Cameron, portrayed as the commanding officer.
'Third war'
A headline in the Mirror refers to the prime minister as "Major Cock-Up."
"All prime ministers go off-piste sometimes," comments the Guardian.
And it draws a lesson, that "today, spending more in one department means spending less in others."
That matters - says Fraser Nelson in the Daily Telegraph - because Mr Cameron, who came into office wanting more schools and fewer bombs, is now "on his third war."
He argues that there is in fact no direct threat to Britain from the Sahel - but says Mr Cameron has chosen to act on the world stage and "now, he needs to pay for it."
As the Financial Times puts it: "There should be no more cuts in the UK military this decade."
Beckham 'box office'
David Beckham's glory days as a player may be over - but, as all the papers recognise, he remains box office.
The Telegraph sees his transfer to Paris St-Germain as "a dream deal" - a love affair, almost, on both sides.
A cartoon in the Daily Express suggests that, among the locals who sees cause for celebration, will be the tattoo parlours of Paris.
The Guardian thinks the city will suit the footballer and his wife, Victoria - with its shops, its style, and its privacy laws.
The Sun says "Posh must think she's died and gone to heaven."
But the Daily Mail points out that she and their four children will stay in London.
The Daily Star refers to the player's new role as a "last tango in Paris."
To the Mirror, he is "big hearted" and a "saint" for choosing to give his wages to charity - that's "£170,000 a week," says the Mail.
Insurance mis-selling
There is a furious reaction to the revelation that the main banks face massive compensation claims for mis-selling insurance to small businesses.
The Mirror thinks the total bill could run to £18bn.
The Mail says the terrible irony is that, with Lloyds and RBS still in public ownership, it may be the taxpayer who ends up forking out.
The Sun says the reputation of the banks bas been destroyed by "rapacious greed and immoral conduct" - and the paper thinks that, to restore their good name, "the only way is ethics."