Operation Elveden: Public official faces no charges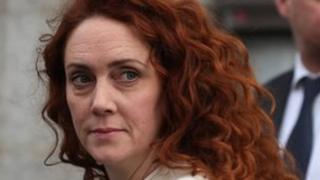 A public official investigated over alleged corrupt payments from ex-News International chief executive Rebekah Brooks is to face no further action.
In November, Mrs Brooks, former Sun chief reporter John Kay and Ministry of Defence employee Bettina Jordan-Barber were charged with conspiracy to commit misconduct in a public office.
They will appear in court in March.
A fourth suspect has now been told they will face no further action, the Crown Prosecution Service said.
It is alleged that Mrs Brooks, 44, and Mr Kay, 69, paid Mrs Jordan-Barber, 39, about £100,000 for information.
They each face one count of conspiracy to commit misconduct in a public office between 1 January 2004 and 31 January 2012.
They are due to appear at the Old Bailey for a plea hearing on 8 March.
In an announcement on Tuesday, Alison Levitt QC, principal legal adviser to the director of public prosecutions, said: "This announcement relates to a file which was submitted to the CPS in relation to two journalists and two public officials on 30 August 2012.
"Three of those suspects were charged with offences on 20 November 2012. A fourth suspect has been informed today that no further action is being taken in relation to these allegations of misconduct in public office.
"Due to ongoing proceedings it would be inappropriate to say any more at this stage. At the conclusion of any related proceedings we will consider what more can be made public in relation to this decision."
Three major investigations are being carried out by the Metropolitan Police in the wake of the News of the World phone-hacking scandal.
Operation Elveden is looking at allegations that journalists made corrupt payments to public officials, including police officers, in return for information.
Operation Weeting is investigating illegal hacking of mobile phones by journalists, while Operation Tuleta is looking into alleged computer hacking.
In total, 98 people have been arrested and investigated and 20 have been charged with offences.
Earlier this month, the Met's Det Ch Insp April Casburn, 53, became the first person convicted as a result of the Elveden probe.
She was convicted of trying to sell information on the phone-hacking probe to the News of the World, and will be sentenced at the Old Bailey on 1 February.