Newspaper review: Papers discuss the 'new Tory Obama'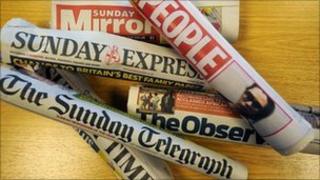 Several of the Sunday papers report on the man being touted as the Conservative party's own Barack Obama - thought to be waiting to take on David Cameron.
The Mail on Sunday and the Sunday Times both claim that Tory MP for Windsor, Adam Afriyie, is being tipped to be the next Tory leader.
More than 100 Conservative MPs have been approached about whether or not they would support Mr Afriyie in a future leadership battle, says the Times. It quotes a friend as saying they are well organised.
Mr Afriyie has spoken to the Mail on Sunday. And when asked about a plot, he said it was a very naughty conversation - even mischievous - especially as he supported Mr Cameron's leadership bid.
The paper claims 40 MPs have already signed a letter saying they would support him if the moment came, due to dissatisfaction with the status quo.
But the Sun on Sunday says Mr Cameron's European speech has put the brakes on any plot to replace him with a "Tory Obama", because his in/out referendum pledge has garnered huge support.
'Surge in support'
Meanwhile, the Sunday Mirror publishes its first poll since the prime minister's speech on plans for a referendum on the EU. It shows the Tories up five points, UKIP down four points and Labour unchanged.
A ComRes poll for the Independent on Sunday suggests public opinion is on Mr Cameron's side and he has gained an immediate surge in support.
But in an interview with the Sunday Times, Labour leader Ed Miliband says UKIP has Mr Cameron on the run.
The Observer turns to the incoming Bank of England governor, Mark Carney, suggesting he will order a policy revolution to jump-start the economy.
But there is even more anticipation over Andy Murray's Australian Open final match against long-time rival and friend, Novak Djokovic. "Come on Andy", says the Sunday Express.
The paper is already declaring Murray the "Wizard of Oz", while the Independent on Sunday's front page reads, "we salute you", beside a picture of Murray in action.
Today is "Murray's day of destiny" adds the Mail on Sunday. Win today and you can call yourself the best tennis player in the world, it claims.
A picture of his beaming mother Judy, graces the front page of the Observer, which assesses his transformation.
Sushi, protein shakes, ice baths, beach running and endless weight-training have helped get him to another grand slam final, according to the paper.
Or perhaps it is down to bananas, says the Sunday Times.