Soldiers given extra Christmas leave as a 'thank you'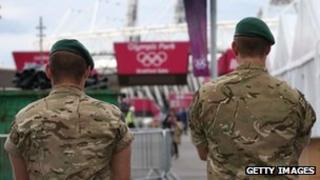 The Army has been given an extra five days' Christmas leave as a "thank you" for its "exceptionally" busy year, the Ministry of Defence says.
The leave for non-essential personnel from 14 December to 7 January recognises the Army's "vital support" for the Olympics and Diamond Jubilee.
A directive issued to staff also states it is to "fully exploit utility efficiencies" in army premises.
But the MoD said it was "ridiculous" to suggest it was a cost-cutting measure.
Speaking to The Sunday Times, Col Richard Kemp, a former commander of UK ground forces in Afghanistan, said: "The troops themselves will welcome the extra time off.
"But nevertheless, to an Army at war this sends an insulting and morale-sapping message that makes it entirely clear just where spending priorities do not lie."
The directive, issued by Maj Gen David Cullen, chief of staff for land forces, states the leave was "in recognition for sustaining a high operational tempo, and also to fully exploit the utility efficiencies available by closing down buildings/working areas over this period."
'Beyond satire'
The directive says: "Staff should be encouraged during this period to work from home, where suitable work can be made available."
But Col Kemp told the newspaper: "The idea that the troops can work from home is beyond satire."
He added: "For a few office-bound staff home working might be possible but even among those the majority are tied to classified and networked computer systems that they do not have at home."
The RAF and Royal Navy are not affected by the decision.
In a statement, the MoD said: "In recognition of the exceptionally busy year the Army has had both on operations and at home - including vital support to the 2012 London Olympics, fuel tanker drivers' strike and Diamond Jubilee - the usual Christmas leave period has been extended.
"Personnel who are essential to supporting operations will remain on task regardless of this leave period and there will be no impact to the mission in Afghanistan." Duties such as guarding royal palaces would also continue, a spokeswoman said.
Meanwhile, the MoD has said no timescale has been set for the next tranche of armed forces redundancies.
In September, some newspapers had reported that about 8,000 soldiers would be made compulsorily redundant after Christmas.
Under the Strategic Defence and Security Review, the Army is to cut up to 12,000 personnel from 102,000 by 2015. By 2020, the Army is to be reduced to 82,000.
So far, the Army made 920 personnel redundant in 2011, while in June 2,900 jobs were cut.