Police crime commissioners: Media reaction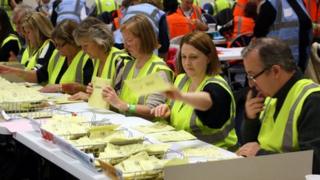 The media is reflecting on the low turnout at the police crime commissioner (PCC) elections, which saw fewer than 15% of voters turning out in the 41 English and Welsh police areas, a peacetime low.
The commissioners will be in post until 2016 and will have the power to set policing priorities, budgets and also to hire and fire chief constables.
The Conservatives won 16 posts and Labour 13. The remaining 12 went to independents, including some ex-police officers.
Some commentators suggest that it is now up to the PCCs to prove their worth to communities, despite the low turnout.
Sunday reaction
"The government cannot say it was not warned. The Electoral Commission, which is to submit a report to parliament on the turnout, told ministers beforehand that a greater effort had to be made "to engage effectively with voters". The coalition, apparently fearful of criticism of the cost, ran the election on a shoestring.
"In the absence of leaflets telling voters what the election was about, many did not know about them and cared even less. Downing Street on Friday resorted to blaming the media for their failure to report the elections.
"Maybe the media could have done more, but they took their lead from the curiously detached approach of David Cameron and his ministers."
Andrew Rawnsley in the Observer
"Britain, in common with most mature democracies, has had a long-standing and deep-seated problem with voter disengagement. But a new low is set by this latest episode of There's An Election... Get Me Out of Here.
"I thought I might have been a bit pessimistic when I predicted a few weeks ago that turnout in some places could be as low as 15%. It transpires I was too optimistic. Less than one in six cast a vote, the lowest ever participation in a national election.
"No one at all visited a polling station in Newport, which has since become more celebrated than most of the new commissioners. The obvious place to start the blame game is with the government. The timing couldn't have been better designed to ensure that the elections were a flop.
"It would have made much more sense to have held them with next May's council contests rather than stage standalone elections for new roles in chilly November when it starts to get dark at four in the afternoon. The Lib Dems, who insisted on the separate poll, deserve the blame for that."
Christopher Booker in the Sunday Telegraph
"In Manchester the turnout was 18%, the lowest at any by-election since the Second World War. The national turnout for police commissioners was even lower, one polling station in Wales registering no voters at all - while a record 3% of those who did vote spoilt their ballot papers to show their disgust at the farcical exercise.
"When I walked into our village hall on Thursday evening to spoil my own ballot paper for the first time in 50 years, I found that only 15 of my 200 neighbours had turned up all day - most of them totally bemused.
"Meanwhile, in Bradford, my friend Richard North was staring at claims that commissioners would restore "local control" over the police, asking how this could possibly make sense when the new commissioner for West Yorkshire will have to decide policing priorities over an area of 800 square miles, with a population of 2.2 million, containing five metropolitan districts and including the cities of Bradford, Leeds, Huddersfield and Halifax.
"With the election of 12 non-party commissioners, Thursday was the day when, more clearly than ever, we showed the political class, which for so long has treated us with such contempt, that our only response is to reciprocate. But how to re-establish democratic control over that class, which rules our lives as surely as if we lived in a one-party state, is one of the greatest political challenges of our age."
Sunday People comment
"What is the point of police commissioners? Why do we need them? What will they do? Why do they deserve £100,000 a year? Theresa May should have addressed herself to these questions before Thursday's elections.
"Instead the home secretary presided over the biggest voting shambles since 1831 when 152 MPs were chosen by fewer than 100 voters each. These rotten boroughs were consigned to the dustbin of history until, with staggering incompetence, Mrs May fished them out again.
"What possessed her to imagine the Home Office was capable of running national elections in the first place, when it has no experience of doing so? There were no mail shots or explanatory booklets, only a totally inadequate website. The Welsh almost went to the polls without bilingual ballot papers.
"And it compromises all the principles of democratic neutrality for a government department to be sticking its nose in anyway. As Mrs May never made the case for creating police commissioners before the election, she must now explain after it why she felt it was worth the £100 million the whole fiasco cost."
Nick Ferrari in the Sunday Express
"As predicted, the turnout for the vote for police commissioners up and down the land has been pitifully low. What else were politicians seriously expecting when the information was so slim and the candidates' selection came from a list of the not very good, the bad and the ugly?
"As a result this government looks even more out of touch as it pushes through this expensive Whitehall farce yet still ignores the growing, and at times deafening, clamour for a vote on Europe."
Saturday reaction
"Low turnout is rightly seen as bad for democracy and cannot help establish the PCCs' authority. The Police Federation, and critics on both left and right, were quick to say "told you so". But politicians can have selective amnesia on the mandate argument.
"Did Labour rejoice any less over its baleful wins in Corby (turnout 44%), Manchester (18.6%) and Cardiff (25.6%), or grieve less over its candidate's defeat (on a 22.9% turnout) by the red-trousered independent, George Ferguson, for Bristol mayor? No.
"Low turnout is a wake-up call, not a death sentence. So the Tory chairman, Grant Shapps, had a point, a modest one, when he claimed that five million more people voted for PCCs than ever did for the highly anonymous police authorities.
"The ball is now at the PCCs' feet. With a positive response from the police (far from certain) and restraint from the Home Office (ditto) they must try and make a go of it in hard times. Like it or not, we are where we are."
"Is a minority vote a sufficient mandate to exert authority over the local chief constable? The first retort to anyone who says that the new PCCs lack legitimacy because turnout was only 18% is to point out that the turnout to appoint police authorities, which PCCs now replace, was 0%. Police authorities were appointed by a few bigwigs gathered in a room.
"Ultimately, however, success or failure is in the hands of the PCCs themselves. the serious test of the new institution is not the initial level of turnout. It is whether the PCCs turn out to be a good tribune of the people on local issues of crime and anti-social behaviour which are always two of the answers most readily given when people are asked for their concerns.
"This has been a poor start for a good idea. The onus is now on the new breed of PCCs to earn themselves a better turnout next time."
"The plan for Police and Crime Commissioners was central to Mr Cameron's early political vision. In opposition, his "big idea" was the redistribution of power from the centre, and the election of police commissioners was cited as a key example, along with the revival of elected mayors.
"In practice, there are few mayors, and police chiefs have now been elected on a wave of indifference.
"Such laxity has only exacerbated the challenges the new system will face. Senior police officers have expressed concern over blurred lines of accountability, warning of a repeat of the confusion in London, where the Metropolitan Police's responsibility to the Home Office, the Mayor of London and the assembly leaves it a servant of too many masters.
"It was always incumbent on the newly elected commissioners to work through such issues. But an only shakily credible electoral mandate will not help them."
Rick Muir in the New Statesman
"I have a confession to make. I think directly elected police and crime commissioners (PCCs) are a positive step forward.
"The problem is that this democratic reform has been implemented in a totally cack-handed fashion. It was absurd to hold these contests to new and unfamiliar posts in November, with cold weather and early nights. They should have been held in May in tandem with the local elections, which would have ensured a more respectable turnout of 30 to 40% in most places.
"But the difficulty of engaging people in these elections does point to wider problems for those engaged in public service reform. Earlier this week, IPPR published a book on "the relational state", which argues for a shift away from public services being managed in a top down fashion from Whitehall and for services to be re-designed from the bottom up, with the users of services playing a more active role.
"Should a turnout of below 15% in the PCC elections force us to reconsider these arguments? I do not believe so: we want public services that are designed around their users, that are held to account locally and that are flexible enough to innovate and respond to local needs."
Charles Moore, the Daily Telegraph
"It is perfectly true that the low turnout is embarrassing for the Conservatives, who devised these reforms.
"You might have thought that the people who created this new field of battle would have ridden out and fought on it. This important reform should have been argued for day by day through the campaign, by cabinet ministers.
"The Tory leadership, though extremely media-conscious, does not seem to realise that, in politics, it is not enough to have a good idea. It is not even enough to have a good idea and then legislate. It is necessary to have a good idea, argue for it, enact it - and then argue for it all over again.
"For the first time, that public have the right to make their voice heard by the police. That requires democratic politics, and it is a good and dreadfully belated innovation.
"So the last thing the Tories should now do is to resile from their own invention. From today, the fighting will get fiercer. The struggle begins for the PCCs to get to grips with their huge new task."