Man charged in UK over Syria kidnap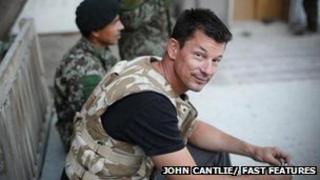 A second man has been charged in connection with the alleged kidnap of a British photographer in Syria.
Jubayer Chowdhury, 24, was charged with unlawfully imprisoning John Cantlie and Dutch journalist Jeroen Oerlemans against their will.
Shajul Islam, 26, was charged with the same offence last month and remanded in custody after appearing in court.
Mr Chowdhury was remanded in custody to appear at Westminster Magistrates' Court, in London, on Friday.
He was arrested at Heathrow Airport by Metropolitan Police counter-terrorism officers on Monday morning after arriving on a flight from Bahrain.
A police statement said the charge against Mr Chowdhury and Mr Islam was that they had "unlawfully and injuriously imprisoned John Cantlie and Jeroen Oerlemans against their will" between 17 July and 26 July of this year.
Mr Islam, from Stratford, east London, was arrested at Heathrow Airport last month as he arrived back from Egypt.
He was charged on 16 October and a trial has been set for next June.