Newspaper review: Crisis at BBC discussed in press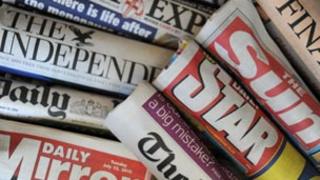 The papers continue to discuss the crisis currently engulfing the BBC.
The Independent believes the resignation on Saturday of the director general, George Entwistle, has left the corporation facing the darkest of days.
It notes comments from the chairman of the BBC Trust, Lord Patten, indicating that more heads may roll following the departure of Mr Entwistle.
The Daily Telegraph says up to six senior executives are expected to follow him out of the door.
Such a move would, it says, plunge the BBC further into chaos.
Patten debate
There is speculation about whether Lord Patten should be among them.
The Telegraph says he is under increasing pressure after it emerged that he had approved what it says is a £1.3m pay and pension severance package for the outgoing director general.
In its editorial, the Daily Mail says it is not hard to conclude Lord Patten - far from the being solution for the BBC - is now part of the problem.
But the Financial Times says the priority now has to be stability - pushing out Lord Patten would only perpetuate the sense of crisis.
The Sun says Lord Patten must go too. It believes he represents all that is worst about public sector complacency and nothing can ever come right at the BBC while he remains.
For the future, the Times - and others - wonder whether the director general should lose the role of editor-in-chief.
Police vote
The Guardian reports that chief constables have been barred from warning the public about a low turnout in Thursday's police and crime commissioner elections.
The paper reports there are fears that low numbers of voters could have a negative effect on policing.
Votes will be held in 41 police force areas across England and Wales and the paper points to one poll which suggests the turnout could be as low as 15%.
The Times editorial is a cheerleader for the policy - heralding Thursday as the start of a revolution in policing. It says everybody who can vote, should do so.
The Independent reports that the incoming Archbishop of Canterbury will risk a row with ministers, only days after his appointment.
In his first political intervention since he was named as the leader of the Anglican Church, he will warn that planned reforms to the City will fail people in Britain's poorest regions,
Several papers carry striking photographs of tourists lapping up a visit to St Mark's Square in Venice - in their swimwear.
Bad weather and a high tide five feet above normal have left nearly three-quarters of the city underwater. The headline in the Mail - "see Venice and dive".