Newspaper review: opinions divided about US presidential election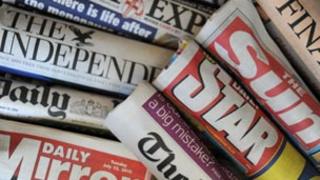 As Americans go to the polls in the US presidential election the Independent's front page headline reads: "Obama scents victory but has he done enough?"
Yes, according to the Daily Express, which believes the president is heading for a second term in the White House.
The Sun agrees, saying he is not so much Obama - but "Go-Bama", and predicting that he will achieve a two per cent win in the popular vote.
The Times, however, is not so sure that there will be a clear winner. It suggests that thousands of lawyers have fanned out across the US in anticipation of a photo-finish.
According to the Financial Times, it is an open secret that David Cameron hopes for an Obama victory.
The FT reports that Mr Cameron has an uneasy relationship with the Republican candidate, Mitt Romney.
The Daily Star warns that the election may be 3,000 miles away, but if a chill wind blows in America, sooner or later we will feel the blast.
The Daily Mirror and the Telegraph lead on David Cameron's decision to order an inquiry into child abuse claims against a senior Conservative in the 1980s.
The Telegraph says Mr Cameron's "swift action" highlights the political sensitivity surrounding the issue.
Under the headline "new pervert bombshell" the Mirror claims that Mr Cameron was forced to act because of the mounting allegations.
The Guardian says the prime minister is poised to defend the green economy.
The paper highlights complaints that there are too many attacks on renewable energy and green subsidies, from members of the government.
It says the green economy is now a £120 billion industry, accounting for 8% of Britain's GDP.
According to the Daily Mail, the Treasury is considering proposals to limit child benefit to the first two children in a family. The paper says the move would be aimed at trimming the welfare budget.
The Sun reports that drug addicts and alcoholics could lose benefits if they refuse treatment for their problems.
It explains that the clampdown may also be extended to obese people who are unwilling to eat healthily.
The Daily Express reveals that a baroness is being sued by her former gardener, who claims that mowing her lawns made him deaf.
It says Clifford Sayer is seeking damages from Lady Chelwood, who owns a 200 acre estate in East Sussex.
According to the Times, European perfume makers are worried about EU proposals, to tighten rules on ingredients that could cause an allergic reaction.
One industry source tells the paper that the EU must "preserve Europe's olfactory cultural heritage".
Finally, a headline in the Telegraph reads: "Prince Charles, heir to Dracula's blood line".
It says officials in Transylvania have produced a family tree connecting Vlad the Impaler with the Prince of Wales.