Investigating the council tax dodgers in Stoke-on-Trent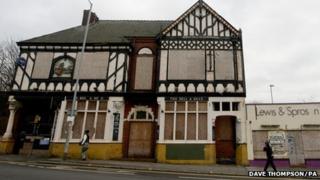 With local government facing huge funding reductions, David Nath spent a year filming Stoke-on-Trent City Council as it tried to implement cuts and collect £20m it was owed in unpaid tax.
A year into the cuts and we had already witnessed heartbreak as council care homes, swimming pools and libraries were closed as part of a £36m programme of cuts. Some 700 city council employees had lost their jobs.
The reality of the government's austerity programme was painfully apparent in a city ranked the 16th most deprived area in England. A Stoke taxi driver pleaded: "We just can't take much more."
But it was just the beginning. There were three more years of council budget cuts to come and the council had already worked out it needed to lose another £20m the following year. But it turned out that was identical to the amount it was owed in council tax arrears.
The irony was not lost on the people of Stoke. The local authority had one of the worst collection rates in the country and yet city services were being axed.
How many might have stayed open if the council had collected the money it was owed? The message on the street was clear - the council had to get tough.
Inside the town hall the council tax black hole built up over 17 years was becoming acutely embarrassing. The heat was now on new chief executive John van de Laarschot, who was drafted in to make the council more efficient.
He was saying the right things: "Why should bona fide taxpayers in the city be bailing out people who are trying to skive away from it?"
Excuses
Wendy Hulme is on the front line as a council tax collection officer in the council revenues and benefits department and says people come up with all sorts of excuses not to pay.
She said: "The main one is, 'I've been on holiday and I've spent all my money on my holiday.' Speaking to people they say, 'Well I've got other debts,' and then when you say to them, 'This is a priority debt,' they'll say, 'Well to me it isn't.'
"This case is £8,700. This is not unusual - we look at them daily." She says the council gives people "chance after chance after chance" to pay.
Keeley Todd, 27, works for Dukes, one of the bailiff firms employed to recover council tax arrears.
One of her first visits in a typical day was to a man who owed about £5,000. The debt dated back to 2001. He had no job and did not claim any benefits. All he had were the clothes he was standing in.
The nine court summons he had received over 10 years had amounted to nothing. He was not at all happy to see Keeley but she held firm: "I can't go away. This is my job. I'm a bailiff."
In a city where one in four is out of work, getting the money back was not easy but that was only part of the story.
Keeley pulled up outside the home of a couple who owed the best part of £2,000: "I am going to sort it out. I'm just trying to juggle everything," said the wife as she sped off in a BMW.
In a more upmarket part of Stoke, a woman answered the door. This time Keeley was chasing nearly £3,500: "My husband is responsible for all the bills. As far as I was aware he'd been paying them. So it's a mystery to me," she explained.
What was emerging was while there were those who could not pay, there were also those who simply would not.
Frustration
One man who had built up arrears of £8,000 - 10 years of unpaid council tax. He had ignored dozens of council letters, phone calls and court summonses. "I just forgot - I forget things," was his explanation.
As a bailiff, Keeley had the power to take away people's possessions but she told me the council hardly ever sanctioned that. She was frustrated: "Do the council actually want the money back or not?"
Out on the streets the council was seen as a bit of a soft touch. Nobody in Stoke had ever been sent to prison for failing to pay and now, in austerity Britain, was it really time to start playing hard ball?
Stoke-on-Trent council expects to cut £119m from the city over the next four years, but Mr van de Laarschot points out that even if it gets back all its outstanding council tax it will not solve all its problems.
"That money that is outstanding is a one off. The issues we face are a year on year basis, so of course it would help and of course it would make us look much more professional and of course it would help us get our house in order but it doesn't solve all of the problems. You need to do both."
But the council was not the only body responsible. How many of those who had not paid their council tax were now berating politicians for closing their local swimming pool or their library?
Perhaps if everyone had paid their dues the cuts would not have been quite so bad.
The Year the Town Hall Shrank is on Thursday 15 November, at 21:00 GMT on BBC Four.