Men 'planned mass suicide attack'
22 October 2012

From the section

UK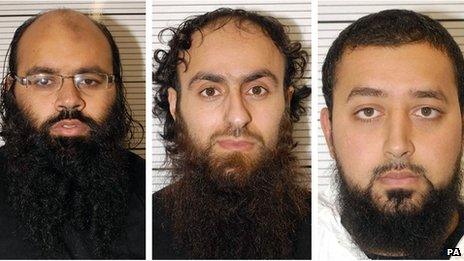 Three Birmingham men have gone on trial accused of planning a bomb campaign prosecutors say may have been bigger than the 7 July London attacks.
The men are accused of planning a mass suicide bomb campaign that could have led to eight rucksack bombs being used against multiple targets in the UK.
The accused are Irfan Naseer, 31, Irfan Khalid and Ashik Ali, both 27.
The men, appearing at Woolwich Crown Court, deny engaging in conduct in preparation of terrorist acts.
The terror charges relate to the period between December 2010 and September 2011.
'Suicide videos'
Mr Naseer, from the Sparkhill area of Birmingham, and Mr Khalid, from the Sparkbrook area, are also accused of preparing for acts of terrorism by receiving training in Pakistan.
The jury were told by prosecutors that the pair had recorded suicide videos in Pakistan that would have been played to the world had their plot been completed.
Opening the prosecution case, Brian Altman QC said that the police had "successfully disrupted a plan to commit an act or acts of terrorism on a scale potentially greater than the London bombings in July 2005", which killed 52 people.
"The defendants were proposing to detonate up to eight rucksack bombs in a suicide attack and/or to detonate bombs on timers in crowded areas in order to cause mass deaths and casualties."
One of the men allegedly described the plans as "another 9/11".
Mr Naseer and Mr Khalid returned from Pakistan in July 2011, the court heard, and Mr Ali provided them with a "safe house" in which they could experiment with chemicals. Investigators placed a listening device inside that flat - and two more in vehicles used by the men. The recordings of the mens' conversations will form the heart of the prosecution.
Mr Altman told the jury that 12 people were eventually arrested last September and six men had pleaded guilty to preparing for acts of terrorism. Four of those were men who had been recruited to travel to Pakistan with the intent of receiving terrorism training. Two others had pleaded guilty to helping with fund raising.
The court heard that one of the men who had pleaded guilty, Rahin Ahmed, had taken charge of more than £13,000 which had been raised by the group when they posed as legitimate charity workers. The men tricked Muslims in Birmingham into handing over cash saying that it was going to Muslim Aid, a well-known bona fide charity, and a local Islamic school.
Ahmed banked the cash and invested it in online foreign exchange trading in an effort to make a profit. The court heard he lost £9,000. The charity and the school were given approximately £2,500 between them.
Mr Altman said the men were "jihadists" and "extremists" who were influenced by an al-Qaeda affiliated preacher, Anwar al-Awlaki.
The preacher was killed in a drone strike in Yemen shortly after the arrest of the three men.
The trial continues.