Analysis: Extradition's ultimate test of human rights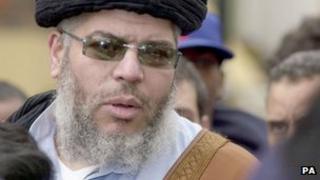 The decision by two senior High Court judges to throw out last-ditch attempts to stop the extradition of five men facing terrorism trials in the USA was made, they said, "in the interest of justice".
It took Sir John Thomas, president of the Queen's Bench Division, longer than had been expected to announce the verdict, but with it a battle that began 14 years ago was finally over.
Prime ministers and US presidents have come and gone while the courts have debated whether to send these five men to America.
Abu Hamza's file has featured in the ministerial red box of six home secretaries. Theresa May is the first one able to move it to her out-tray.
So why have these cases taken too long to resolve?
Justice under scrutiny
Each of these cases became a long battle through the British courts - but the delays really began to build up once the cases came down to complex questions about human rights.
The Strasbourg court took over the cases because of what was at stake: was Europe prepared to send these men to America, face trial and possibly harsh punishments, amid alarm over how the country had responded to 9/11?
In short, is America's justice as good as ours?
These cases were the ultimate test of the very delicate balancing act at the heart of the European Convention on Human Rights.
They involved people who most would consider to be deeply unattractive, deploying every argument they could muster to avoid extradition.
Judges were being asked to rule on whether many of the men faced indefinite solitary confinement, something that their lawyers said would be totally unacceptable in Europe.
London and Washington won, but the battle continues, given that many people still feel very strongly that the UK's extradition arrangements are deeply flawed.
Even as he was preparing to leave Long Lartin prison, Babar Ahmad denounced his extradition, saying he deserved a trial in the UK.
He has many supporters - but every court has backed the US's claim of jurisdiction.
You can read his comment piece for the Guardian newspaper here - and see his earlier exclusive BBC interview from prison here.
But one of the judges who heard Babar Ahmad's final appeals this week was scathing about the attempts to prosecute him in the UK, saying that such a move would totally undermine lawful extradition.
His case was certainly hampered by delays, not least because Europe decided to deal with all the men together in one mega-judgement.
Had there not been other cases to consider, Babar Ahmad may have got swifter justice, even if was not the answer he hoped for.
Abu Hamza's eight-year extradition case was complicated by the fact that the process was halted after he was jailed for offences in the UK.
Each of these cases was unprecedented and the pressure on judges in both the UK and Europe was immense.
The fact that America finally has got its men, following mammoth legal battles, will probably make future similar extraditions occur far more quickly. That was exactly what the two nations wanted to achieve in the wake of 9/11.