Prince Harry naked photo prompts 3,600 complaints
28 August 2012

From the section

UK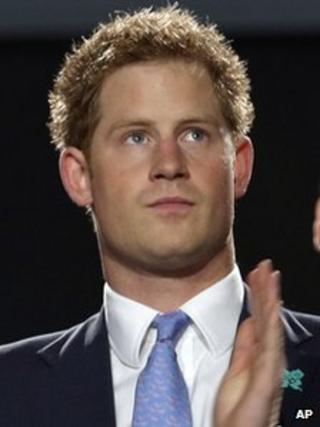 The Sun newspaper's decision to print naked photographs of Prince Harry has prompted about 3,600 complaints to the Press Complaints Commission (PCC).
The News International-owned tabloid printed the nude pictures of the prince in Las Vegas on Friday, arguing it was in the public interest.
The watchdog said all the complaints about invasion of privacy came from the public and not from the Royal Family.
The PCC said it would be considering the complaints.
The nude photographs were first published online by US website TMZ.
In two pictures, the prince was seen with a naked woman in a hotel room. The photos were believed to have been taken on a camera phone.
Representatives of the prince had requested the photos not be printed in the British press, on the grounds that it infringed the prince's right to a private life.
Defending the publication, Sun newspaper managing editor David Dinsmore told the BBC the paper had "thought long and hard" about whether to use the pictures and argued it was an issue of freedom of the press.
He was supported in his decision by Rupert Murdoch, boss of News Corporation which owns News International.
The number of complaints to the PCC about the photos was well below the record numbers received about other articles.
In November 2009, a story by Daily Mail columnist Jan Moir about the death of former Boyzone singer Stephen Gately attracted a record 25,000 complaints to the PCC, on the grounds it was homophobic.
A complaint by Mr Gately's former partner was rejected by the PCC in February 2010.
In May this year, an article in the Sun which seemingly mocked the way newly-appointed England football manager Roy Hodgson speaks prompted more than 1,000 complaints.
This was not investigated by the watchdog.