Postcard from Attica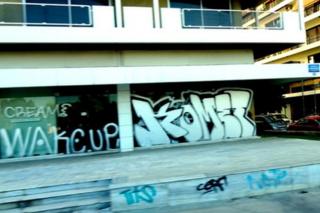 In the sultry Athenian air, this feels like a place holding its breath.
Greeks have always scrawled on walls. But after sunset this troubled summer, masked graffiti agitators have roamed the capital's streets applying their urgent exhortations to every flat surface they can find.
The flotsam of bankruptcy has made their endeavours simpler: the blank windows of dead businesses have become living message-boards for anarchists.
To my untutored eye, one phrase in English leaps out. I keep seeing it, hurriedly sprayed in crude lettering. It says, simply, "WAKE UP".
I wonder if the voice of the street has become the silent scream of a nation.
In Britain, journalists call August the "silly season", when the Westminster story machine slows to idling speed and papers scrabble around for news to fill their pages.
In Greece this August, the press has not been so much ticking over as ticking down to what everyone expects to be a make-or-break few days in the country's history.
The headlines are of political manoeuvring and expectation management ahead of the "verdict of the troika inspectors": publication of a report from the EU, EC and IMF in a month's time on whether Greece's fragile coalition government has taken sufficient steps to justify the release of the next tranche of aid worth some 31bn euros (£24.5bn).
To many Greeks, the very word "inspector" raises hackles, so the idea that a faceless committee of foreign accountants can pick through the country's finances considering whether people are suffering enough is a profound humiliation - especially as austerity already wears a tragic mask in these parts.
Prime Minister Antonis Samaras knows there are millions of Greeks who would like nothing better than to tell the troika-inspection panel where they can stuff their verdict. But he fears that were he to lead his country through the EU exit curtain, Greece would find itself tumbling down a precipitous slope.
Perhaps that thought crossed his mind this week as he had dinner with Eurogroup chief Jean-Claude Juncker at the splendid New Acropolis Museum with its view of the floodlit Parthenon atop Athens' cliffs.
The mood music drifting from the dinner had a vaguely optimistic beat. There have been rumours that the troika may reveal itself rather impressed by the determination of the Greek government to introduce painful reforms. A deal may be done on timings, despite uncompromising voices elsewhere.
But outside the sterile security zone of eurozone affairs, the atmosphere in Greece appears thick with foreboding. Beyond the political headlines, I am struck by the daily digest of stories in the papers which suggest a nation on the edge.
Gangs have been very active across the country, seeking out scapegoats for economic hardship. The mayor of Athens, Giorgos Kaminis, has warned that communities must stand up to the thugs. "When fellow human beings are being stabbed on an almost daily basis, society has to be alert," he said.
Wild fires have swept across Aegean isles, some apparently set by arsonists. From the front page of one national paper, a worried-looking fireman holding a puny hose against a billowing inferno stares out. The metaphor is almost too obvious to draw.
From the fashionable island of Hydra comes a reminder of how this relatively immature nation, not yet 200 years old despite its ancient provenance, lacks faith in and respect for government institutions. When tax inspectors turned up to check the island's books the other day, only the intervention of riot police prevented the officials from being lynched. It is not the first time it has happened. Another island population apparently picked up a taxman sent from Athens and threw him into the sea.
While the EU demands Greece bow to the wisdom of technocrats, the Greek people worship different gods. In a land which has seen so much political instability, life is based on networks of personal friends and influential contacts. Getting one over on the state is regarded almost as a noble Olympic sport.
A commentary in the old Athens broadsheet Kathimerini recently considered the government's efforts to crack down on tax evasion and fraud. "Authorities have published the initials of individuals who have transferred millions of euros to overseas bank accounts and they are investigating how certain people built up wealth that is not justified by their previous declaration of assets," it noted.
"However, the above are nothing but PR stunts. The revelations and the accusations are only designed to demonstrate that the country is inhabited by crooks. Of course, what the political class seems to miss is that the morality of a society is a pure reflection of the morality of its political, economic and academic elite."
I was thinking about this while chatting to the manager of an exclusive hotel complex in Vougliameni, a seaside bolt-hole for Athens' elite half an hour from the capital. Michael Metaxas took a call as we shared a bowl of olives. Apparently, Prime Minister Samaras was staying the night and arrangements needed to be made.
The resort is used to such visits but Michael said he had noticed a change in tone when dealing with the country's most senior politicians. In the past, the PM's office might have dealt with him directly to ensure special treatment. Mr Samaras, he revealed, had booked himself in through the normal sales department.
"Last week a former prime minister also stayed here," Michael told me. "The following day he took the trouble to contact me personally to check whether his breakfast had been included in his room rate or if he should send payment. I was happy to inform him that his breakfast had been included."
Perhaps the story is a sign of a changing culture among public servants in Greece, a new humility. But trust in political power may not be so easy to change. Athens betrays the hallmarks of quiet rage mixed with despair. Wandering through the traffic I see a man waving a large cardboard placard at passing drivers. "What does it say?" I ask him. "What I'd like to do to Merkel!" he replies. "It is a little rude," he adds, sheepishly.
As to what happens next? Athens is still holding its breath.