Afghan boy stabbed by British soldier receives MoD payout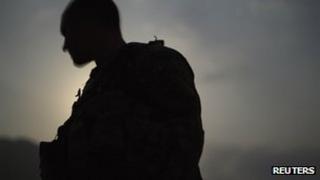 The Ministry of Defence is to compensate the family of an Afghan boy who was stabbed by a British soldier with a bayonet in March 2010.
The MoD said it accepted liability for the incident and would pay the family of Ghulam Nabi an "appropriate" sum.
Grenadier Guardsman Daniel Crook was sent to military prison for 18 months and dismissed from the Army last year.
Crook said he had been drinking heavily the night before the attack and could not explain why he did it.
A spokesman for the MoD said compensation for the "appalling incident" would be paid "on receipt of medical reports".
"Incidents of this kind are extremely rare but any allegations of ill treatment are investigated thoroughly.
"Protecting the Afghan civilian population is one of the UK's top priorities. All British troops undergo comprehensive training on the strict rules of engagement under which UK forces operate," he added.
Drinking vodka
Ghulam, who was 10 at the time of the stabbing, was on his bicycle collecting a bottle of yoghurt with another child when he encountered Crook on patrol in the Nad e Ali district of Helmand province.
The soldier had been treated by medical staff the night before after drinking a "considerable quantity of vodka".
Crook was armed with two grenades and a bayonet, his rifle having been confiscated as a safety precaution.
During Crook's court martial in June 2011, the prosecution said Ghulam had pestered him for chocolate.
He responded by stabbing the child in the back with his bayonet, around his kidney area. When Crook caught up with the rest of his unit, he admitted he had stabbed the 10-year old.
The boy was taken to hospital in Kandahar. His father Haji Shah Zada told the Guardian newspaper that the British gave the family a small amount of money to pay for his medical treatment.
He said his son has been left with a large scar on his back and could not walk or cycle for months after the attack.
Zada added that foreign troops were "in Afghanistan to build the country and remove insurgents, not to stab a child".