Newspaper review: Pussy Riot sentencing criticised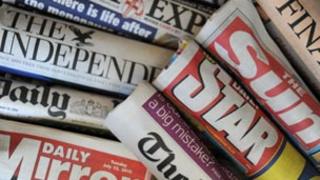 Punk band Pussy Riot, sentenced to two years in prison for hooliganism after their protest in a Moscow cathedral, appear on the front of the Guardian.
The paper says prosecution is becoming President Vladimir Putin's weapon of choice against dissent.
They are "prisoners of Putin", says the Independent, using a photo of the three women being led away in handcuffs.
The Times says he is facing mounting international criticism with protesters accusing him of running a dictatorship.
Horrible case
The Daily Mail wonders whether Ian Brady's letter - supposedly revealing the location of murdered Keith Bennett's grave - is a sadistic hoax.
The note may be up to 10 years old, says the Daily Mirror.
The Guardian criticises the police for "allowing the notoriety of the case to sway their judgement" by arresting Brady's mental health advocate.
It says nothing is solved or gained "by continuing to dig over this horrible case in this way any longer".
Olympic spirit
As the Premier League begins, the Financial Times considers unfavourable comparisons with the Olympics.
Britain's footballers, it says, are the bankers of the sporting world - rich and targets of blind rage.
In the eyes of the paper, though, the Premier League, just like the City, is a global success story and one that deserves to be defended.
The Sun urges footballers to embrace the Olympic spirit of sportsmanship or risk losing the love of their fans.
Drinking habits
The Daily Telegraph reports that US researchers have discovered that women tend to drink more after marriage while men drink less.
The study found that both sexes are influenced by their spouse's habits.
Its conclusion is that while women can keep their husbands' drinking habits under control, men tend to have a bad influence on their wives.
The Daily Express says it shows that marriage really does drive women to drink more than their unwed friends.