Prince Philip responding well to treatment, says Palace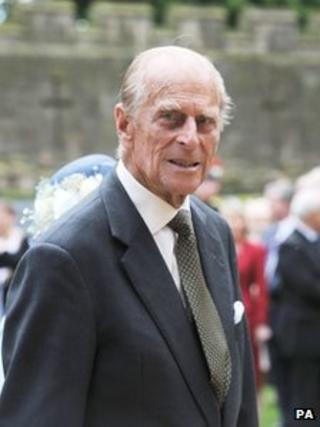 Prince Philip is responding well to treatment for a recurring bladder infection, Buckingham Palace says.
However, it is likely that the 91-year-old Duke of Edinburgh will remain in hospital for a few more days.
He will have no visitors on Friday as doctors have advised him to rest, but his family are in touch by phone.
The duke was taken as a "precautionary measure" on Wednesday to Aberdeen Royal Infirmary from nearby Balmoral, where he had been with the Queen.
The Queen left Balmoral for several hours on Friday afternoon - the first time she has been seen in public since her husband was admitted to hospital.
She drove herself out of the gates of the estate in a Range Rover, returning later in a convoy that included the Earl and Countess of Wessex.
Helicopter bid
Meanwhile, the Ministry of Defence has confirmed an RAF helicopter was scrambled to take the duke to hospital in Aberdeen on Wednesday, but its efforts were thwarted by fog.
A spokesman said the Sea King from RAF Lossiemouth landed in fields three times in an attempt to meet the ambulance but "horrendous weather" limited where they could land and none of the sites was close enough to the road to make the transfer.
A spokesman said it was eventually decided it would be quicker to complete the 50-mile journey by road.
The duke had been seen in public as recently as the morning of his latest setback, walking "briskly" along a jetty in Cowes on the Isle of Wight.
He had also been seen at various London 2012 Olympic events, including the opening ceremony on 27 July and equestrian events at Greenwich Park.
His latest stay in hospital is his third in nine months.
He spent four days in hospital over Christmas, following an operation to clear a blocked heart artery.
And after attending events to mark the Queen's Diamond Jubilee in June, Prince Philip was admitted to hospital for five nights, missing several days of festivities after sustaining the original bladder infection.