Brigadier's 'black grief' for son who served in Helmand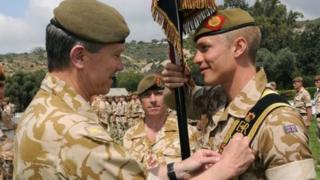 A British military operation in Helmand claimed two lives in the summer of 2010, including that of Capt Andrew Griffiths. His father, Brig Mike Griffiths, is the most senior serving officer to have lost a child in Afghanistan, and two years on, he uses his own experience of grief to advise visiting officers, whose job it is to break the news of deaths and injuries to Army families.
The men of Arnhem Company, 2nd Battalion, Duke of Lancaster's Regiment, were tasked with a daring three-day mission. The aim: to go deep into enemy territory and pick a fight with the Taliban, in order to stop them killing local workers building a vital road.
The men nicknamed the operation Hornet's Nest.
During a firefight lasting for hours, young soldier Kingsman Darren Deady was shot and badly injured.
His colleagues fought to save him, managing to evacuate him alive onto a Chinook helicopter despite his wounds.
At a nearby compound, Capt Andrew Griffiths was leading one of the fire support groups. This was his second tour of Helmand.
The 25-year-old had won the respect and affection of the men he led, despite facing banter about being the son of a serving officer who was also colonel of the Regiment.
Andrew's father, Brig Mike Griffiths, was all too aware of the dangers his son faced on his second tour of Helmand. He commanded British troops in Afghanistan in 2003 and 2004.
"We spoke to him on the Saturday as he was preparing to go out," he remembers. "Andrew said 'we're going on another big one, and this could be really hard'. He couldn't say any more, and he only told that to me. He wouldn't have told it to his mum."
The next day, Arnhem Company moved on to a new compound. They didn't know that buried within it were several Taliban bombs.
Capt Griffiths stepped on one of them and was badly wounded.
He was flown back to the UK that same night, together with Kingsman Deady.
Brig Griffiths' boss went to their house to break the news of their son's injuries to the family.
"I was on leave when it happened," remembers Mike. "Sue, my wife, was about to go to work, and she was at the door when the doorbell rang at 7.30. The door opened, and I looked over the stairs and I realised immediately what it was."
Twelve days later, Andrew died at the Queen Elizabeth Hospital in Birmingham, his family by his side. Darren also lost his battle for life.
Brig Griffiths says the family misses Andrew every day.
"I don't think the grief will ever go away. I think if he had survived his wounds, by now he'd have probably been running around challenging himself, because that's what he was like, and that's what so many of these young men are like."
Today, Brig Griffiths is head of Army Personnel Operations and in charge of the visiting officers whose job it is to break the news of deaths and injuries to Army families.
He uses his own experience to help emphasise how vital their role is, and how important it is to support families in every way they can.
"When a soldier is injured or, tragically, has died, their families need this rock around which they can cling in order to allow them either to grieve - and grieve properly - and to understand. Or if they're wounded and making a recovery, to support them in that period because that's just as important."
I ask Brig Griffiths whether his son's death had made him question the UK's mission in Afghanistan. He pauses for a moment.
"No, it didn't. And I paused only because as a father, to lose your son in any way makes you question something.
"As a soldier - and I've been to Afghanistan - I believe that we are right to be there. Whether everything has gone in the best way it possibly could in Afghanistan, that is for others to make their judgement on over time.
"The only person I blame is the man who planted the IED Andrew stood on."
But, he says, the loss of their son is ever-present for all the family.
"I think you learn to cope with time. But you have waves of black grief, when I think it's extremely difficult to be positive.
"We are very lucky - we have three other children and they keep you going. And I am very lucky to have a wife who supports me as I support her. You never forget. I don't think there is a waking hour where I don't think and feel sad, but I know that's what everyone who goes through a loss does.
"The one thing we find most difficult is that we got Andrew back for 12 days. Broken and battered as he was, if he'd lived - with the support we would have given him - he would have had a great life.
"You shouldn't ever have to bury your son or daughter, but sadly too many have to, in all walks of life."
Arnhem Company is due to return to Afghanistan next year.
The BBC has been given fresh access by the Ministry Of Defence to thousands of hours of footage shot by British soldiers in Helmand, showing some of the fiercest fighting of the war in Afghanistan so far. Our War is a three-part series, starting on Monday 20 August 2012 at 9pm on BBC Three.