Newspaper review: Cameron's school sports call causes row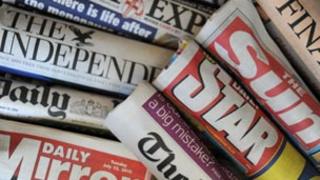 The Daily Telegraph backs a call from Prime Minister David Cameron to reintroduce competition in school sports to build on Olympic wins.
But teaching union leaders tell the Times that Mr Cameron's comments are "a bit rich" when the government has cut funding for school sports.
The Sun criticises the coalition for abandoning the target of two hours compulsory school sport every week.
The Daily Mail calls on ministers to open new playing fields instead of making excuses about those they are selling.
Light receding
The Guardian says the economy is not match-fit as the Bank of England cuts its growth forecast to near zero.
According to the Daily Mirror, five years after the credit crunch struck, the light at the end of the tunnel is still receding.
The fightback by Standard Chartered, meanwhile, is still in the news.
The Financial Times says the bank is consulting lawyers about pursuing a case against the US regulator which says it helped Iran to launder money.
Dire need
UK taxpayers are funding improvements to jails in Jamaica and Nigeria, says the Daily Mail
It calls this a desperate attempt to make foreign criminals serve their sentences at home.
It says British jails have inmates from 156 countries and that the "dire need" to create space has led to the spending on foreign prisons.
The Daily Telegraph also criticises the scheme and suggests all foreign prisoners should be deported.
Gruff bonhomie
There are tributes to the actor Bob Hoskins, who is retiring after being diagnosed with Parkinson's disease.
The Independent says he has had a "glittering career" with roles ranging from gritty gangster films to the animated hit Who Framed Roger Rabbit?
The Mirror says Hoskins, who was nominated for an Oscar for Mona Lisa, "captivated audiences".
The Guardian's tribute is that he is one of Britain's best-loved actors, known for his "gruff bonhomie".