Faulty petrol pumps 'benefit drivers'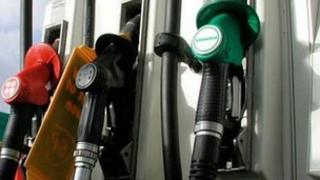 Inaccurate counters on pumps at petrol stations mean drivers are getting up to 4.4% more fuel than they have paid for, the AA has said.
The motoring organisation tested pumps after members were concerned they were not getting enough petrol.
But it found that all nozzles dispensed at least the right amount with many giving more fuel.
The AA said this sometimes amounted to a 6p-a-litre gift to drivers at a time of high fuel prices.
It said Trading Standards officers had found discrepancies at 11 of 216 sites in Derby and four of 38 sites in Cumbria.
An EU ruling will force garages to upgrade pumps to meet the Measuring Instruments Directive by the end of October 2016.
The AA said UK forecourts had a mix of ageing and newer pumps.
"Some drivers have been benefiting from a lucky dip at the pumps, getting more fuel than they pay for," AA president Edmund King said.
"Crippling pump prices" had produced desperation among poorer drivers, he added.
"Petrol this week averaged 134.17p a litre - two years ago, it was 116.60p.
"Inevitably, some motorists are watching their gauges like hawks and complaining to Trading Standards."
In June, the government announced it was postponing its 3p-a-litre rise in fuel duty - planned for August - until January next year.
That followed a campaign by some road users' groups, who argued the increase would damage the economy.