What does the world make of 2012?
Almost halfway then, through London's third Olympic Games. A full week of competition completed, the athletics beginning; London's transport system tested, empty seats pinpointed.
It's not just the home nation that is following the results of course, and in the north-west corner of the Park, a scoop of thousands of journalists and media has come to report the Games back to their countries.
They work from the huge hangar-like media and broadcast centres and across the Olympic venues and wider city beyond, taking the action and the atmosphere around the globe.
Many are veterans of previous Games, carrying Beijing 2008 rucksacks, wearing Atlanta '96 caps, zipping Vancouver 2010 jackets. They know how it works, inside out.
So at the half-time point, what does the rest of the world think of it so far?
Marcio de Castro, Olympics coordinator for Record TV, Brazil
When Beijing 2008 drew to a close, London's organisers began to feel the pressure for 2012, they were up next, their turn to make the Games.
The people of Rio take over Olympics "host nation" duties next Sunday. Surely after the rave reviews given to last week's opening ceremony, the organisation so far and the festival of sport duties about to fall to them, they are starting to feel the heat?
"No," says Marcio de Castro. "Rio 2016 feels a little bit far off, Brazilians need immediate results, they need it now. Instant gratifications.
"We have the World Cup first, and there's no stadium ready for that yet." (They are redeveloping the Maracana, which hosted the 1950 World Cup).
They are, however, enjoying London's version.
"Sports in Brazil are becoming bigger and bigger," says Marcio. "In the past Brazil won just three or four medals but this time expectations are big, because we are becoming stronger in judo, swimming, athletics, gymnastics. It's not just about the football, they hope for 15 medals now."
What did Brazil make of London's quirky opening ceremony directed by Danny Boyle?
A little too much history "like a BBC documentary, we lost a little bit of interest". Until the music began, that is. "The songs - and the James Bond and the Queen and Mr Bean, this was the big thing for the audience," he says.
The spread-out nature of London's venues has made the Games tricky on the transport, but he says that will be nothing compared to trying to get across Rio. And Rio in turn will try to get across "something beyond, football, samba and "'Alegria'," the Brazilian spirit.
Sum London 2012 up in one word for Brazil? "Cold... This is not so like a summer Games, this would be like winter in Brazil."
Gao Jiayi, China Radio International
The broadcast centre is so big it has street names - Sydney 2000, Beijing 2008... You see what they did there. Tucked away down one of the corridors off the side is the China Radio International office.
There is a full canteen just across the road by the written press centre and you see some interesting and diverse expressions as the international crowd turns up to investigate the food.
But at lunchtime, outside the door here, some people have tracked down fresh prawn crackers and a delicious smelling takeaway.
In the office Gao Jiayi is among the team. He says London is seeing the big picture, but struggling more with the details.
"You are doing a lot of things to the big events, such as anti-terrorism, how to build the Athletes Village." But it's the little details - how to display the right Korean flag for example - that are playing out at home and across Asia, he says.
China has had controversy already here: "Ye Shiwen (the gold medal-winning swimmer) is a big story in China. We read a lot of tweets and our listeners say western countries treat eastern and western countries differently. But the swimming programme grows very quickly in China and they trained in Australia."
Throwing games in the badminton is also being closely followed - with some of the audience blaming the officials, coaches and federations for putting the athletes in a harsh situation.
China is into this Games but, he says, for much of the country, the memories of hosting four years ago are still "very clear".
He blinks back emotion, and pauses: "I think most of our fellows feel very proud of it. It made all around the world know Beijing. After Beijing Games they think people know modern China."
How was the 2012 opening ceremony? "Different," he says because countries like China can make a "big view" with a huge cast to call on. London had to change and adapt.
Asked to sum up the London Games, and its original opener in one word, he goes to find his dictionary to grasp exactly the right one to use.
"Weird."
After a bit more explanation we decide maybe he is looking for "unique"?
"Yes, it's London's true nature."
Frank Mathevon, Radio France's UK correspondent
Ah, France, the country that nearly hosted the 2012 Games.
But here is the news, that's l'eau under le pont for the French and they are enjoying London's summer of celebrations.
"They loved the opening ceremony, it was a triumph," says Franck Mathevon.
"When you organise an opening ceremony, you need to be universal and to talk about your country.
"That's what is great, everybody knows in France the British cultures and the music. What Danny Boyle talked about in his show, they really liked, it was a great success."
With few transport problems and not many security issues so far now the Games are under way, and the 300,000-strong French population making the capital like a nearby French town, he says the French are feeling the warmth of their neighbour's summer. They can pop over to sample it, they know the city well.
"Yes, we did enjoy the Jubilee, yes, it is surprising because we beheaded our monarch in 1789 but millions of French people watched the river pageant," he says.
Sitting high on the medals board, the French are "very happy" with the results so far. And they love British gold medal-winning road racer Bradley Wiggins for his cycling and multi-lingual skills: "Wiggins is a star in France. People are really happy about his victory."
In one word, London to the French is "patriotic".
"On this side of the channel, we are enthusiastic about your culture, like rock and roll, pop music, cinema, all these things. And you see many union jack flags, people seem very proud of their country."
Vladimir Gomelskiy, Russia Channel One commentator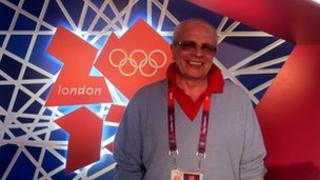 Russia's president, judoka black belt Mr Putin, was in London to talk to our prime minister this week, meeting up at the ExCeL venue.
But still, back home, they will be showing a lot of judo, even while he's away.
In the south of the country, this Vladimir says they are "good crazy" about the wrestling pursuits. "Wrestling is a golden sport because Russia will win most of its gold medals in it - we hope for seven."
It's also their sport to hit the London tagline and "Inspire a Generation". The more success Russia has, "the more children will take up wrestling".
The swimming team, however, are leading to shaken heads from east to west: "We brought the whole swimming team and still no medals.
"Coaching, training and competing scandals have calmed down, but still, no results. They're doing their maximum but it's still not an international level of results.
"And the shooting results are disappointing."
During the opening ceremony, historical references such as the nod to engineering genius Isambard Kingdom Brunel left the Russians stumped - he makes a tall Victorian hat-shaped sketch with his hands and looks perplexed.
And a veteran of 16 summer and winter Games, he confides this one is not the best: "The transport! Driving in London is some kind of sport!" Perhaps the next Olympics, the Winter Games in Sochi in two years' time, will be easier to comprehend and navigate.
But London 2012 overall to Russians, is "cool" in vibe, not in temperature.
I thank Vladimir for his time. And am told I'm "mostly welcome". The translation of the Olympics, home to abroad, it cuts both ways.