Could council budget cuts lead to a rise in vermin?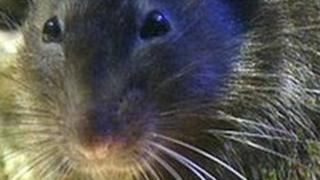 Record spring rainfall has led to warnings that rats may have been flushed out of overflowing sewer systems and hunting around for new lodgings. BBC Panorama has been investigating whether the squeeze on council budgets could be affecting our ability to keep ahead of the vermin population.
Last year in the UK, a survey by the industry found that local council pest controllers made roughly 300,000 rat-related visits to people's homes. There is no official statistic to measure the rat population, but councils are also being routinely called out to grapple with the return of the bed-bug to Britain - after being all but eradicated half a century ago - as well as the ever-present cockroach.
And they are feeling the pressure.
Over the past two years, amid tightening budgets, 29 councils have pulled out of the pest control business entirely and others have started to charge for their services.
Councils are obliged to keep their own land free of rats and mice and have some powers to intervene to make private landowners do the same, but they are not legally required to provide a pest control service.
In Stevenage, the council has introduced a £47 charge for pest control, which initially resulted in a 50% drop in rat-related calls, although those numbers have begun to recover.
DIY dangers
Chris Woodard of the council's pest control team said that when faced with the one-time charge, people were giving more thought to tackling the problem on their own: "I think people just thought, 'oh, we'll try to deal with that ourselves and we'll go out and buy some poison for a few pounds'."
But he warned that the DIY route can be dangerous.
"Most people I see putting it down do it in a totally inappropriate manner, thereby poisoning wildlife and doing themselves some harm," he said.
Private companies are often the choice for domestic pest problems, but Simon Forrester of the British Pest Control Association said even competitively-priced private firms are sometimes beyond the reach of the most vulnerable.
"Local authorities are the safety net for society, and many people who can't afford pest control need to find some sort of support, they're often the ones who have the worst pest problems near and in where they live."
Graham Jukes of the Chartered Institute of Environmental Health said he believes cutbacks will lead to more problems with pests.
"Resources to actually deal with the problem around the country are actually diminishing and so I believe the problem is getting worse," he said, adding, "populations will increase... damage and the potential loss of wellbeing will increase as well."
Council fees 'lazy'
But that view is countered by private contractors such as David Channon, of Microbee Ltd.
He said in areas where private pest controllers have taken over, infestations have not gone up.
"There hasn't been a sudden collapse in confidence or a sudden outbreak of pests in any of the locations that have had private contractors," said Mr Channon.
But Chris Woodard from Stevenage said the view from the front line is that budget-cutting by councils will lead to pest populations increasing.
"As far as public health pests go, they will be out of control… none of this is measurable quickly, it'll be a long term approach, if something is going to happen over the next three, five, maybe 10 years."
A spokesman for the Department for Communities and Local Government said pest control was a matter for individual councils and that given the amount of overall budget spending that goes to local councils, they have to play a part in spending cuts.
He added: "There are many ways for councils to make sensible savings rather than the lazy option of introducing charges. Councils can protect front-line services through better procurement, greater transparency and sharing back office services."
Mr Jukes also thinks there is also a wider issue of co-ordination among the varying government departments or agencies that have an interest in public health, particularly with regard to pest control.
"The question is, are they being co-ordinated in any shape or form and my view is no, they're not."
Panorama: Rats, traps, bugs and cutbacks, BBC Two, Monday, 6 August at 20:30 BST then available in the UK on the BBC iPlayer.