Your questions to Ian Pannell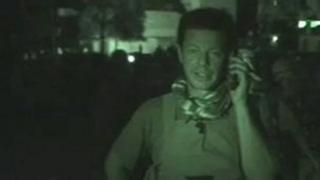 After his recent reporting trip to the front line in Syria, BBC News correspondent Ian Pannell answered your questions about the situation there and what it's like to report in such demanding conditions in a live Twitter Q&A.
This is an edited version of the session:
Question from @alexvlf1m: What do you think has been the biggest difficulty in reporting information from Syria?
Ian answers: Two main problems: 1) the danger 2) being able to hear both sides of the story
Jonah in US emails: What are the daily conditions for you? How do you sleep and eat? How long in action before you get a break?
Ian answers: It was rough living, with very little sleep. We were constantly on the move and there were food and water shortages. It was a ten-day trip, my fifth trip in the last year.
@ShivamLM asks: How hard was it to earn the trust of pro- and anti-government protesters? And is the situation recoverable?
Ian answers: The government refused visas for our team. So I was unable to hear pro-Assad voices, but those voices have appeared elsewhere on the BBC. It has taken a lot of time and effort to earn the full trust of anti-government forces, but protesters have been very open to foreign media.
A question from @makiwa: Please confirm how long Britain and the USA have been arming the al-Qaeda terrorists in Syria?
Ian answers:There is lots of concern that al-Qaeda is in Syria. In five trips into the country, and having seen thousands of Free Syrian Army (FSA) members, I've met no al-Qaeda. But small numbers are likely to be there.
There are many reports of foreign jihadis inside Syria, but I have seen no evidence on the ground. They probably do exist, but are likely to be only small number.
The US provides help to oust Assad, but not weapons. Some doubt this, but there is no proof otherwise.
A question from @SemraG: Why don't we get much media coverage about what's happening with Kurds in Syria?
Ian answers:Because it's so difficult and dangerous to get first-hand reporting. Coverage of minority Kurds is limited, but see this story.
@forestmat asks: I am curious to know why Ian wasn't wearing a Kevlar helmet while filming with Darren Conway - only body armour?
Ian responds: This is something the team have discussed at length. It may sound strange, but there are security reasons for not taking a helmet.
@BarrieTweet asks: Is the trouble spreading or is it confined to sections of the country?
Ian answers: The trouble has been spreading since this began. There are very few areas now unaffected, but there are pockets that still seem "normal".
@Mr_Izop asks: Who is fighting Assad - the FSA or disparate uncontrolled groups?
Ian tweets: The FSA is a loose coalition of regional fighters who are increasingly unified. Other smaller groups are also present.
Ivan in Moscow emails: What do Syrians think about Russians? Do they understand that a lot of Russians support them?
Ian answers: Anti-government forces and citizens are increasingly anti-Russian and do not distinguish between the Russian government and people.
As far as we know, those who are pro-Assad are grateful to Russia for what they see as critical support in the face of western and Arab "hostility".
Brian Mc posts on the BBC News Facebook page: If the rebels succeed is a new Syria more likely to be a secular state?
Ian answers: Syria has been a secular state for over 40 years. Some fear that is now threatened. Most FSA I've met say they want a non-religious government that "reflects the will of the people".
Jamie Mayers asks via Google+: From what you have witnessed, is there any doubt that Assad's regime is committing crimes against his own people?
Ian responds: No. I have also seen what appears to be FSA abuse of prisoners and there are reports of FSA killings, but on a far smaller scale.
Lily in Australia emails: What is the role of women in rebel forces? Are there any female combatants?
Ian answers: There is only a handful of women fighters reported. But women are very active in opposition. It is a very traditional society and they and children are sent to safety.
@juliamacfarlane asks: Was there anything positive you saw on your trip that gave you reason to hope for Syria?
Ian tweets: Anything positive? The human capacity to endure great suffering and yet believe that one day Syria will be at peace.
One day, the death and bloodshed will be over and Syria will emerge a united country living in peace.
Last word: Work in Syria is among some of hardest I've known and is only possible as a genuine team effort with Darren Conway filming and Peter Emmerson producing.
Sadly, that's it. Thanks for all questions, sorry I couldn't get to them all.
For more tweets from Ian Pannell you can follow his Twitter account.