Newspaper review: Papers yearn for first 2012 gold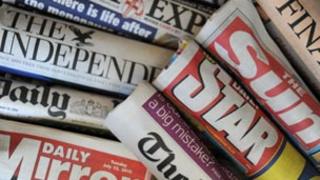 The papers are torn between celebrating some of the amazing achievements at the Olympics and fretting about Team GB's lack of a gold medal so far.
"Don't panic," says the Times, "today's the day".
The Daily Mirror says: "Now it's the turn of Team GB, as we always knew it would, to deliver a glittering haul of golden joy."
The Independent says Britain's first gold will arrive at 10.17am, via rowers Helen Glover and Heather Stanning.
"Keep calm and carry on" is how the Daily Telegraph sums up the message from Team GB officials to a British public impatient for an Olympic gold.
Hair raising
The front pages of the Sun and the Daily Mirror look ahead to Bradley Wiggins's attempt to win the 27-mile cycling time trial.
The Sun prints lucky cut-out golden sideburns for every reader to wear to help the 32-year-old cyclist.
The Mirror goes further, providing a cut-out of his hair and sideburns.
The police find themselves in the dock over the arrest of a 17-year-old boy in Dorset, alleged to have sent malicious messages on Twitter to Tom Daley.
"Wrong arm of the law" says a Telegraph editorial, which accuses Dorset police of spending too much time on Twitter and not enough on the beat.
Melanie Phillips in the Daily Mail says insults should never be criminalised.
"It's not the police's job," says John Kampfner in the Guardian, "to ensure everyone speaks well of everyone else."
Pension debt
A report in the Mirror claims nurses at a cash-strapped hospital trust have to clean the wards after bosses cut back on cleaners.
The paper says the Mid Yorkshire trust expects to end the year £26m in debt.
The Independent claims ministers are plotting to end the neutrality of the civil service.
The Daily Express says new rules being proposed in Brussels threaten to saddle UK pension funds with at least an extra £300bn in costs.