GB equestrian team take Olympic silver at London 2012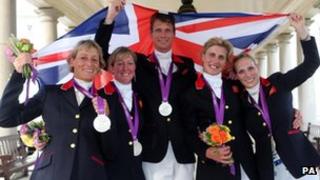 Great Britain's equestrian team have won silver in the eventing competition at the London 2012 Olympics.
Tina Cook, William Fox-Pitt, Mary King, Zara Phillips and Nicola Wilson finished runners-up to Germany to take GB's fourth medal.
Later, the Team GB women's football side beat Brazil 1-0 at Wembley to set up a quarter final against Canada.
US swimmer Michael Phelps won a record 19th medal, as part of the gold medal-winning US 4x200m freestyle relay team.
Meanwhile, Games organisers have defended the drug testing programme and dismissed doubts over Chinese swimmer Ye Shiwen.
A US coach labelled Ye Shiwen' world record-breaking swim in the women's 400 metres individual medley on Saturday as "unbelievable" and "disturbing".
At a news conference, British Olympic Association chairman Lord Moynihan said Ye had passed drugs tests and deserved "recognition for her talent".
Dick Pound, an International Olympic Committee member and former president of World Anti-Doping Agency, told the BBC that the performance was "surprising" because Ye had come out of nowhere at London 2012 to grab world attention.
He said: "Nobody's ever seen somebody swim that fast before. You expect that to be an occurrence at an Olympic Games.
"The problem is - with all the suspicions about drug use throughout sport - when something is really, really spectacular, the first thing you do after you see that performance is say, 'hmm, I wonder'."
Mr Pound added: "It's a fact of life that people say, 'wasn't that magnificent, was it too magnificent?'"
Later in the day, Ye won another gold medal in the women's 200m individual medley, with GB's Hannah Miley in seventh place.
But there was disappointment for GB when swimmer Ellen Gandy was a surprise casualty in the 200m butterfly heats.
In other developments:
The longest rally in the first game was just four shots.
Both pairs were already through to the quarter-finals and the Chinese duo later said they were saving energy for the knockout stages.
South Korean head coach Sung Han-Kook said their efforts were "not like the Olympics spirit".
GB equestrians last won eventing silver at Athens in 2004 and they took bronze in 2008.
Zara Phillips's mother, Princess Anne, presented the medals to the equestrian teams in Greenwich Park.
The Princess Royal is President of the British Olympic Association and herself competed in the eventing in the 1976 Montreal Olympics.
"The team had done so well, it was so close. We could have got silver or nothing and that would have been awful," Cook told BBC Sport. "Gold would have been brilliant, silver is fantastic."
Great Britain's female gymnastics won their best team result in the post-war era after finishing sixth at the North Greenwich Arena. The US won gold ahead of Russia, and Romania claimed the bronze.
Meanwhile, the Duke and Duchess of Cambridge accompanied by Prince Harry have met Team GB competitors at the Athletes village at the Olympic Park.
They spent time looking around athlete apartments and spoke to key British medal hopes including Victoria Pendleton, Rebecca Adlington and Jessica Ennis.
Ahead of the start of athletics at the Olympic Stadium on Friday, GB's track and field team flew into London City Airport from a training camp in Portugal.
In Weymouth, Ben Ainslie said he remained confident of securing a fourth sailing gold medal despite remaining behind Jonas Hogh-Christensen in the Finn class after six races.
"All I can do is the best I can right now and hope that if I keep pushing hard, he might slip up along the way," he said.
Amid the ongoing row over empty seats at venues, Olympics organisers Locog said more than two million spectators had turned out to watch the first three days of the Games.