London 2012: Team GB wins first Olympic medals
29 July 2012

From the section

UK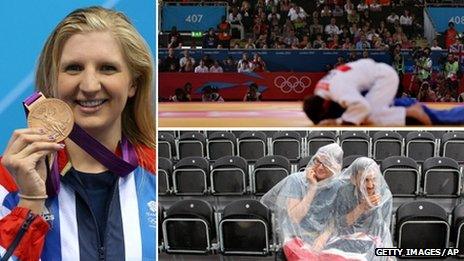 Team GB has won its first London 2012 medals, with cyclist Lizzie Armitstead taking silver in the women's road race.
Swimmer Rebecca Adlington has taken bronze in the final of the 400m freestyle.
London 2012 chairman Lord Coe insisted Olympics venues were "stuffed" with sports fans, after a row about empty seats on Saturday.
However, on Sunday empty seats could be seen at several sports, including basketball, volleyball and tennis.
Armitstead, 23, from Otley near Leeds, was beaten to the gold at the end of the 140-kilometre race by Holland's Marianne Vos in a sprint finish on The Mall.
She said: "I'm really, really happy. Maybe later I'll start thinking about that gold, but I'm happy with silver at the moment."
Adlington, 23, who lost her title to Camille Muffat of France, said she was glad she had won a medal at a home games.
"The crowd were just absolutely amazing, this is what I wanted, this is what picks you up, this is what gets you from fourth to third and gets us on that podium. I know so many people wanted me to get the gold and sorry about that, but I tried my absolute hardest, I'm so pleased with that."
She later tweeted: : "Ahhhhhhhh bronze medal!!! Can't believe it! SOOO happy its unreal! The crowd was incredible! THANK YOU to everyone, your support is amazing!"
Adlington's battle to hold on to her 800m freestyle title will begin with heats on Thursday morning before Friday night's final.
In other Olympic developments:
Lord Coe spoke out as the row mounted over unfilled seats in several Olympic venues.
At some venues, seats in the accredited "Olympic family" areas - reserved for groups including officials, sports federations, athletes, journalists and sponsors - have remained empty.
"I don't think you will be seeing this as an issue, long-term through the Games," he told a press conference.
Organisers Locog said it would fill some of the empty seats with servicemen and women, as well as local students and teachers.
It said it would also sell more tickets, after some 1,000 tickets were released on the London 2012 website on Saturday night.
A system has been introduced similar to the one used at Wimbledon, where people coming out of the stadium handed on their tickets so the seats could be made available to others.
A Locog spokesman added that it would examine options to upgrade the tickets of members of the public and move them into accredited areas.
On Sunday, empty seats were seen at venues including basketball at the Olympic Park, where troops filled the gaps, tennis at Wimbledon and volleyball at Earl's Court.
Around 100 seats at the gymnastics at the North Greenwich Arena were also given to troops.
But many other venues were full, including boxing, judo and fencing at ExCel, badminton at Wembley Arena and shooting at the Royal Artillery Barracks.
American Paul Fondie, who now lives in Kew, west London, said he was frustrated by the number of empty seats at the men's gymnastics at the O2 on Saturday.
He said he and his wife had not been able to take their six-year-old son because they could not get an extra ticket.
"It tainted my experience of the Olympics - it was our moment to come under the microscope and show that London can do it well."
Andy Murray has claimed his first Olympic singles victory, beating Switzerland's Stanislas Wawrinka 6-3 6-3.
And Briton Ben Ainslie opened his quest for a fourth Olympic gold medal with a second place finish in the opening race in the sailing at Weymouth Bay.
British teams have been competing in basketball, handball, hockey, volleyball, water polo and the football on Sunday.