Newspaper review: Let Olympic Games begin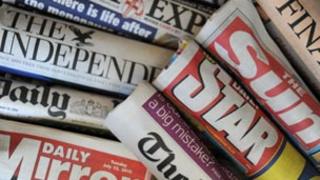 The Olympics are the lead story in almost all of Friday's newspapers.
The Times shows Tower Bridge and other London landmarks in the sunset under the headline "Let the Games begin".
So the great day arrives, declares the Sun, which looks ahead to the opening ceremony with " Bond, Becks, Beatles, the baked bean... brilliant! " The Daily Star says simply " Let's party ".
The Daily Mail tells us dreaming ends on Friday evening and the Games promise to be the greatest show on earth.
Mood of nation
The Independent says it is time to set aside the groans that have surrounded the preparations such as the "Zil" lanes, the G4S security arrangements and the Korean flag muddle.
The Daily Mirror agrees, urging the cynics to button their lips and catch the mood of a nation eager to cheer winners and competitors.
It is not a time to dwell on the "mercifully few hiccups", it adds.
Despite some people's unattainable standards of perfection, the country has a sense that the next 17 days may actually be pretty wonderful , says the Guardian.
'Mitt the twit'
The last full day of the torch relay - through London - is widely covered.
The simple act of carrying the flame, says the Daily Telegraph , can evoke just as much excitement as great sporting feats.
The Times calls it Britain's biggest and newest star - colour blind and impervious to social status.
US Republican candidate Mitt Romney has been criticised for questioning preparations. The Times says he had a clumsy diplomatic touch and MThe Sun calls him "Mitt the twit ".
Bus seat eater
Elsewhere, the Daily Telegraph says US scientists claim eating two apples a day could help protect women against heart disease by cutting cholesterol.
The Daily Mail reports that the fruit significantly lowers blood fat levels in post-menopausal women - a group at high risk of heart attacks and strokes.
Finally, police are hunting a man who caused £200 worth of damage to a bus in Devon - by eating one of the seats .
The Sun claims he chatted to passengers before tucking into the leather seat.