London 2012: Olympic stamps for opening ceremony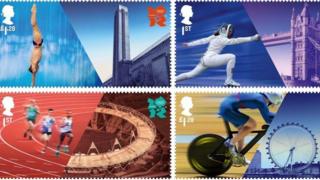 Royal Mail is issuing a new set of stamps to mark the start of the Olympic Games, featuring four popular events.
The stamps, which merge athletes with London landmarks, go on sale on Friday, the day of the opening ceremony.
The set includes two first class stamps and two at the airmail price of £1.28.
They show a diver plunging next to Tate Modern, a fencer duelling with Tower Bridge, athletes running over the Olympic Stadium and a cyclist whose front wheel is the London Eye.
During the Games, Royal Mail will also be issuing a special collection of Olympic stamps to mark every Team GB gold medal win.
The special edition stamps will feature, wherever possible, photographs of the Team GB athlete or team in action from their final.
Cyclist Mark Cavendish could be the first to be honoured as he is hotly tipped to win the road race on 28 July.
The stamps will be available in more than 500 Post Offices, 24 hours after each medal has been won in.
They will not be sold in the Isle of Man, where Cavendish is from, although a special set has already been launched on the island .