London 2012: Troops should get Olympics tickets, BOA says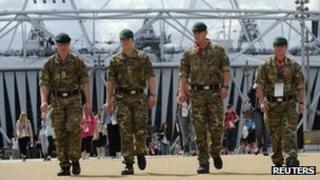 Any spare Olympics tickets should go to troops called in at short notice to help with venue security, the British Olympic Association head has said.
"If anyone deserves to fill any empty seats it's those forces in their down time," Lord Moynihan said.
An extra 3,500 troops were drafted in last week after contractor G4S admitted a shortage of staff.
Meanwhile, South Wales Police is deploying more officers to provide security at Olympic venues in Cardiff.
Games organisers said they would be allocating extra tickets to the armed forces.
"We have already given 10,000 tickets to the troops through our Ticket Share programme and we are in the process of allocating and distributing extra tickets to troops now they are providing additional support to the Games," a London 2012 spokesperson said.
In other developments:
Lord Moynihan said the military presence at the Olympic Park had already had a positive effect on the UK team.
"I know the sacrifices many of then have made personally to be here to support the team and the stress they are under in delivering their day jobs.
"I want to reflect that every single member of the British team is 100% grateful to them for giving up their time at short notice to make sure we have a safe and secure Games," he said.
"If there are any spare tickets it makes eminent sense for the armed forces to have them and would be a great way to say thank you to them."
On Tuesday, Locog announced that it was reducing capacity for Olympics football events in Glasgow and Cardiff - withdrawing 500,000 tickets from sale - but releasing 200,000 additional tickets for other sports.
London 2012 chairman Lord Coe said some of the remaining tickets could be issued using London 2012's Ticket Share system, which provides free tickets to children, servicemen and women and their families, and sportsmen and women, funded through hospitality packages.
On 12 July Home Secretary Theresa May said 10,000 Olympic and Paralympic tickets had been donated to the armed services.
She said there would be access for 2,000 military spectators in the Mall for road events and that troops had the opportunity to buy 2,000 Olympic Park tickets.