Homes more affordable, says study by Halifax bank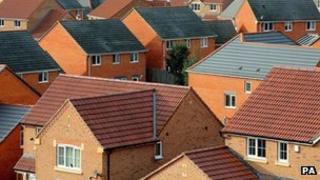 The stagnant housing market is bringing more homes within the reach of first-time buyers, a study has suggested.
The Halifax said property was at its most affordable for 10 years.
The bank said the average price of starter homes across the UK compared to earnings was getting more affordable, despite difficulties in securing loans.
The trend was most marked in Scotland, but conversely homes cost 8.8 times the average earnings in the borough of Brent in north London.
The Halifax compared average earnings in different local authority areas to house prices.
Assuming that buyers could stretch to a price equivalent to four times their income, the result was that 54% of those areas were deemed to be affordable.
That was the highest figure since 2002.
There was a clear divide between the north and south of the UK, because homes were more expensive in the south of England.
Four of the top five most affordable places were in Scotland, led by South Ayrshire.
Almost all of the places where property was most out of reach were in London.
Halifax housing economist Martin Ellis said the findings suggested good news for new home-owners.
"This partly reflects the substantial improvement in home affordability for first-time buyers since 2007, following the fall in house prices over the period," he said.
"However, the continued uncertainty over the outlook for the UK economy and the difficulties faced by many in raising the necessary deposit remain significant hurdles for those wishing to buy their first home."
The Halifax estimated there were 114,000 first-time buyers in the first six months of 2012, a rise of just over a third on the same time last year.
It said this was largely ahead of the withdrawal of the two-year stamp duty concession in March.