Canal and River Trust takes over from British Waterways
12 July 2012

From the section

UK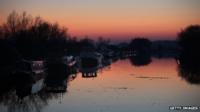 A new charity taking over responsibility for canals and rivers in England and Wales is to be officially launched later.
The Canal and River Trust will be responsible for about 2,000 miles of canals and rivers while waterways in Scotland will remain in public hands.
It takes over from British Waterways in a major transfer of public assets into the charitable sector.
Ministers say it is a major milestone in its programme to reform quangos.
The change does not mean that public funding is coming to an end.
The government has agreed to pay about £800m to the charity over the next 15 years.
But the trust says its new status will open up new sources of funding.
It has already announced support from companies, including Google, and will be trying to raise money from the general public.
The charity, whose patron is the Prince of Wales, will give the estimated 10 million people who visit the waterways a greater role in making them cleaner and more attractive.
The Canal and River Trust said: "By pledging money or time, people can get involved in projects such as creating new habitat for rare water voles, planting linear orchards for people and wildlife, and restoring neglected towpaths."
Chairman Tony Hales said British canals and rivers had been "transformed from a national disgrace into a national treasure" in the past 50 years which "has been extraordinary" but was only the start.
He said: "The Canal and River Trust opens an exciting new chapter in the waterways' long history and gives a chance for everyone who cares for them to play a part in their future.
"By harnessing public goodwill and energy, our canals and rivers can breathe much needed new life into our towns, cities and countryside. It's an amazing opportunity and we can't wait to get going."
And Environment Secretary Caroline Spelman said that, by placing waterways in trust: "We are giving all those who love our rivers and canals an opportunity to get involved in how their local river or canal is run and help to provide a bright future for our historic canals."
The BBC's Adam Porter says ministers will be watching the charity's progress to see whether other public bodies could be turned into charities.