Olympic task to tackle rough sleeping
13 July 2012

From the section

UK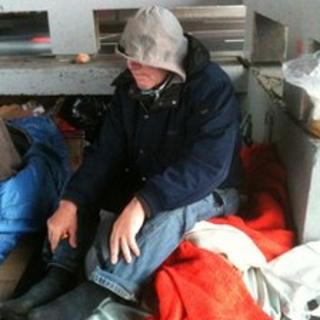 The 2012 Olympics originally marked the deadline for ending rough sleeping in London but numbers are rising, forcing charities to create new ways of tackling the problem.
Early one rainy Saturday, beneath Waterloo Bridge, Sergejus gets a wake-up call. Outreach workers from a charity are looking for rough sleepers who they may be able to help.
Sergejus, from Lithuania, says it is his second week on the streets. As he emerges from beneath a red rug, his grey hooded top pulled down over his eyes, he says he was working as a cleaner close to the Olympic Park until his contract ran out.
"I didn't know what to do. I cannot go back to my home country as I am waiting for my job seekers' allowance here. I also am waiting for treatment on my knee, which I injured while at work," he says, rolling a cigarette.
As Sergejus is informed about his options, four other men, dishevelled and bleary-eyed, emerge from sleeping bags next to him.
One of them explains how he has been homeless for two months and has slept in doorways and under bridges for three weeks. Their stories reveal the enormity of the task facing organisations focused on getting people back into normal life.
Overseen by the Mayor of London's Delivery Board - a collection of voluntary sector providers, local authority and central government representatives - their aim is now to end rough sleeping by the end of 2012.
Funding fears
But how realistic is that target when in some areas the numbers are going up? Figures collected by charity Broadway show 4,000 homeless people were seen by outreach teams during 2011.
Many more, known as the hidden homeless, sleep on friends' floors or sofas and their numbers are unquantifiable. The figures are dramatically lower than the late 1980s to early 1990s when the problem was chronic but they also show that the total number of rough sleepers rose 26% from February 2011 to February 2012.
Colin Glover, chief executive of Connection St Martins, a homeless service provider based near Trafalgar Square, is aware the target keeps slipping.
"If we don't meet the target resources will get taken away," he says. He fears the authorities will withdraw funding or even move people on by force if the charities fail to meet their goals.
Another charity, Homeless Link, says it hopes the legacy of the Olympics will end rough sleeping. Its interim chief executive, Matt Harrison, blames the economic climate both for creating the rise in rough sleeping and because cutbacks have hit many homelessness services.
However, an extra £700,000 of government money has funded a pilot project called No Second Night Out, which principally assists new, vulnerable, rough sleepers.
Its director, Petra Salva, recognises people doubt how realistic the target is but says it is the right ambition. "The initiative has put the urgency back into tackling rough sleeping," she says. The government now plans to roll out the scheme across the UK.
Addiction denial
Inside a centre for the homeless run by the Connection, rough sleepers past and present say the problem will never be eradicated.
"The government said that they would eradicate homeless years ago and yet there are more people on the streets now than there were a couple of years ago," says Morley, 42. He's been homeless on and off for more than a decade but is now intent on getting into drama school.
Nuala Scanlon, a former entrenched rough sleeper, who was also an alcoholic for many years, has turned her life around, thanks to the charity, Thamesreach, and other organisations.
In her one-bed flat in south-east London she describes how she used to sleep in gutters.
"I'm so grateful that every day I can wake up and I'm free. I was in so much denial that the consequences of my addiction were causing my homelessness," she says.
Back on the streets, sheltering under the porticos behind luxurious hotels and theatres on the Strand there are a number of men still in that situation.
With gruff voices the men in their cardboard boxes talk briefly to the outreach workers before telling them to go away.
The teams would rather rough sleeping were discouraged here, mainly out of concern for the well-being of those doing it, but also because it is in central Westminster where numbers of entrenched homeless have tended to remain higher than in other boroughs.
Olympics rumours
Meanwhile, rumours have spread that the authorities are trying to move people on as the Olympics approach.
Homeless Link's Matt Harrison said he only knew about activities taking place as part of the long-term strategy. Both Westminster Council and the Metropolitan Police said they were not aware of such measures.
Petra Salva also disputes the rumour. "If it was just about clearing the streets all the effort and investment would be going into this a few weeks beforehand. Energy, effort and money has been invested into ending rough sleeping for some years and will continue after the Games," she says.
It's hard to say whether the Olympics will have any direct impact on the numbers of homeless but it has stimulated the drive to do something about the problem.
As for Sergejus, this energy and effort is paying off. He is said to now be back in the Borough of Newham, home to the Olympic Park, awaiting government-sponsored accommodation.
But the men remaining under Waterloo Bridge are the human faces of statistics that still make the ending of rough sleeping in London a distant prospect.