Kenya condemned over Mau Mau case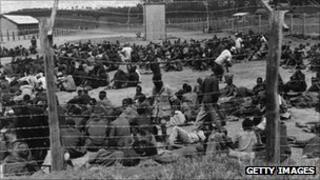 Human rights campaigners working for Mau Mau veterans have complained that the Kenyan government is refusing to finance a case against the UK.
The former fighters Mau Mau have arrived in London to sue the former colonial authorities for torturing them during their fight for independence.
Kenya's government has previously said it supports the Mau Mau case.
But officials were unable to explain why they were not helping pay the veterans' expenses.
George Morara of the Kenyan Human Rights Commission asked why the government was not paying for the former Mau Mau fighters, when it was helping to pay the expenses of the four high-profiles Kenyans facing charges of crimes against humanity at the International Criminal Court.
Although the Mau Mau were active in the 1950s and 60s, Mr Morara says some officials may fear that the case will throw a long shadow over the present.
"Most of them were collaborators," he says.
"They benefited from suppressing Mau Mau and they don't want the full history to come out now.
BBC Africa analyst Martin Plaut says it has taken years to get the case this far and they still have a long way to prove their allegations of torture, including castration.
Gaining access to 17,000 files previously lost by the British Foreign Office was only one of the hurdles they have overcome so far, he says.