Hunt feels vindicated by Leveson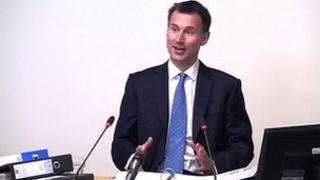 Culture Secretary Jeremy Hunt has said he believes the public was reassured over his handling of the BSkyB deal by his appearance at the Leveson Inquiry.
On Radio 4's The Media Show, Mr Hunt said he took responsibility for the actions of his aide, who resigned, but that did not mean he had to quit.
"I took responsibility by the very next day going to Parliament and answering questions," he said.
Mr Hunt has faced accusations of bias in favour of News Corp's bid for BSkyB.
Labour has called for the resignation of the culture secretary, who had a "quasi-judicial" role over the takeover, claiming he was in breach of the ministerial code for failing to supervise an adviser and lying to Parliament over his department's contacts with News Corp.
But Mr Hunt told The Media Show: "The ministerial code says you are responsible for the actions of your special adviser. It doesn't say you should resign if your special adviser does something wrong, and I did take responsibility.
"I was very, very shocked by what I had seen.
"I took responsibility by the very next day going to Parliament and answering questions, doing a statement and giving MPs the chance to ask me anything they wanted to ask me about what happened."
'Properly, impartially'
The special adviser, Adam Smith, resigned in April over inappropriate contact with a News Corp lobbyist that involved hundreds of texts and emails.
"You can take any text message, or any email, or any reported conversation on its own or out of context and you can use it to paint a particular picture," Mr Hunt said.
"I made no secret of the fact that I was broadly sympathetic to the deal but what the Leveson process showed was when I took responsibility I put in place new processes that actually went way beyond what I had to do in law.
"The really central issue in this is was that bid conducted properly, impartially, and I think that what the Leveson process showed was that it was - and that is, I think, the thing that can give the public most confidence."
News Corp's planned bid to take full ownership of satellite broadcaster BSkyB was eventually dropped in July 2011 amid the phone-hacking scandal at the News of the World.