Afghanistan killings: Suspect's name released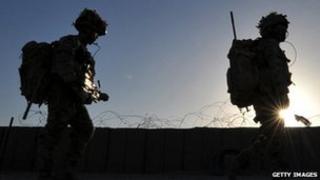 An Afghan policeman suspected of shooting dead three British soldiers has been named by an Afghan police commander as Ziarahman.
The two soldiers from the 1st Battalion Welsh Guards and another from the Royal Corps of Signals were killed on Sunday. They are expected to be named later.
They were shot as they left a checkpoint in Helmand province.
Ziarahman, 25, who reportedly came from Herat in western Afghanistan, was injured and later detained.
A second Afghan policeman is believed to be in custody in connection with the shootings.
More than 20 foreign personnel have been killed in rogue shootings in Afghanistan this year.
Such shootings are sometimes referred to as "green on blue" attacks.
Afghan police wear green uniforms; the use of "blue" for Nato dates from military exercises where Nato forces had blue pennants, and those playing their opponents had red ones.
The soldiers were part of a Nato-led Isaf force who have been training Afghan counterparts ahead of a handover of security responsibility by 2014.
The shooting happened at Checkpoint Kamparack Pul in Nahr-e-Saraj, southern Afghanistan, where the soldiers were attending a meeting of elders.
'Appalling news'
They received first aid but died of their injuries at the scene.
Sources told the BBC a fourth British soldier was injured in the shooting but was not seriously hurt.
Defence correspondent Caroline Wyatt, in Lashkar Gah, the capital of Helmand province, says the Afghan policeman remains in custody.
Ziarahman had been a member of the Afghan National Civil Order Police (ANCOP) for nine months, said the head of ANCOP in Helmand, Ghulam Zaki Ghafory.
Ziarahman had been in Helmand for just over two months, he said.
ANCOP is an elite branch of the regular Afghan police who are supposed to step in to prevent terrorist attacks, and who undergo strict vetting.
Prime Minister David Cameron said on Monday that he was "deeply saddened by the appalling news".