Profile: Barclays chairman Marcus Agius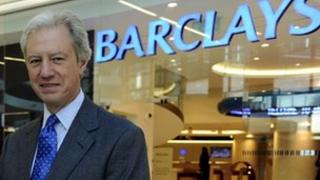 Marcus Agius has resigned as chairman of Barclays in the wake of the Libor inter-bank lending rate scandal, after more than five years in the role.
But it is not the first time he has been in the headlines.
Earlier in the year, there was a 27% vote against the bank's remuneration report at the shareholders' meeting, despite Mr Agius' attempts to persuade investors.
In his speech at the annual meeting, he apologised for the firm's failure to communicate over the issue, but his words prompted heckles and mocking laughter from shareholders angered by high pay.
"There is a significant minority of shareholders who feel that we got some of these judgements [on remuneration] wrong for 2011 and that we have not sufficiently taken their views on board," Mr Agius said.
"For this I apologise and I assure you that in the future we will be engaging differently and more purposefully with shareholders in order to ensure that we obtain a broader level of support on remuneration policy and practice," he said.
Mr Agius, 65, became chairman in January 2007 after joining the board as an executive director in September 2006.
He had previously worked for Lazard, where he began his banking career in 1972, rising to be its chairman in 2001.
'Unacceptable behaviour'
Mr Agius resigned after regulators in the US and UK found that Barclays traders had lied about the interest rate other banks were charging it for loans, which goes into the calculation of Libor.
Manipulating Libor may be done either to make money from trading, or, during the financial crisis, to give the impression other banks thought it was a better risk to lend to than it was.
On Monday, Mr Agius apologised to staff, customers and shareholders in a statement in which he said "unacceptable standards of behaviour" at Barclays had dealt a "devastating blow to the bank's reputation".
As chairman, he said, he was the ultimate guardian of the bank's reputation.
"Accordingly, the buck stops with me and I must acknowledge responsibility by standing aside."
He has also stepped down as chairman of the British Bankers' Association, the body responsible for compiling Libor from the information submitted by banks.
'Very successful'
Mr Agius' other jobs include being chairman of the Trustees of the Royal Botanic Gardens, Kew, and senior independent director of the BBC.
Upon his appointment by the corporation in 2006, BBC director general Mark Thompson praised Mr Agius' : "impressive and very successful track record in managing large institutions".
He is also a business ambassador for government department UK Trade and Investment.
Mr Agius had previously been in the news in 2008, when Barclays decided to raise £7bn in capital from investors in the Middle East instead of accepting bailout money from the UK government.
Shareholders were angry at the time because the shares were sold to institutions such as the sovereign wealth funds of Qatar and Abu Dhabi for a lower price than would have been paid by HM Treasury.
Why did he agree to take the money from the Middle East on less favourable terms than were available from the government?
BBC business editor Robert Peston said at the time: "I've already been rung this morning by sore investors and bankers who allege that Barclays has tapped Abu Dhabi and Qatar because it doesn't want Gordon Brown and Alistair Darling putting a ceiling on what it can pay its top execs."
"Barclays tells me that it is motivated by a desire to protect its commercial freedom, which is about more than how it rewards its stars, but also includes that cherished freedom."
So after years of taking flack for the amount his bankers were paid, it was a trading scandal and, some argue, an attempt to protect his chief executive, that led to his departure.