Olympic torch: Flame visits Shakespeare's birthplace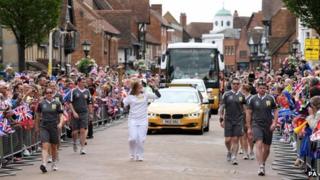 The Olympic flame has been carried past Shakespeare's birthplace, Stratford-upon-Avon, as the relay travelled 95 miles from Birmingham to Coventry .
Peter Wyatt, 83, handed the flame over to Camilla Hadland, 19, in front of the house where the bard was born.
They met outside the famous house in Henley Street, where their torches "kissed" in order to pass the flame on.
The torch also visited Warwick Castle and passed the ruins of Kenilworth Castle on day 44 of the relay.
Mr Wyatt was nominated for his lifelong involvement in rowing, having narrowly missed out on competing in the 1948 Games.
Ms Hadland won a gold medal at the 2010 World Rowing Junior Championships and supports the local schools indoor rowing programme.
Karl Hinett, who had 37% burns when his tank was petrol bombed in Iraq, was among the day's 157 torchbearers.
After five years of skin grafts and operations he now dedicates his time to fundraising for the local burns unit.
Mr Hinett, 25, from Solihull, ran 52 marathons across the world in 2011 to raise money for Queen Elizabeth Hospital's burns unit in Birmingham.
Dominic Macgowan, 12, who is the youngest torchbearer of the relay, carried the flame through Birmingham.
The relay kicked off at 06:00 BST in Birmingham city centre, with crowds turning out to see the flame despite the early start.
People lined the streets as the torch travelled through towns including Solihull.
Other communities the torch visited on Sunday included Earlswood, Redditch, Astwood Bank, Alcester, Evesham, Wickhamford, Broadway, Chipping Campden, Newbold-on-Stour, Alderminster, Stratford-upon-Avon, Warwick, Royal Leamington Spa, Kenilworth and Coventry.
Georgina Harland, from Bath, carried the flame to Warwick Castle.
The 34-year-old won bronze in the Modern Pentathlon in the 2004 Athens Olympic Games.
Matthew Watkinson, 17, from Worksop, carried the flame into Kenilworth Castle. He was a member of Team GB's 4x100m freestyle relay team at the European Youth Olympic Festival where they won silver.
The evening celebrations in Coventry include music from Morning Parade, a dance troupe who will provide a unique fusion of street performance, theatre and sport and dance act Twist and Pulse.
A total of 8,000 people will carry the flame during its 8,000 mile, 70-day journey to the opening ceremony of the Olympic Games in London on 27 July.