London 2012: Shanaze Reade is misnamed on Visa poster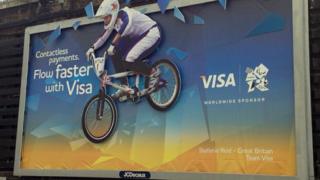 Visa has apologised to two London 2012 athletes after their names were switched on advertising billboards.
The names of BMX star Shanaze Reade and Paralympic longjumper Stefanie Reid were mistakenly pasted on the wrong posters at London's Paddington station.
Reade said on Twitter: "Just noticed that my name is Stefanie Reid on the billboard, at least it sounds similar."
Visa said the mistake was made on Tuesday morning but was corrected "within a couple of hours".
A Visa spokeswoman said the error happened when advertising company JCDecaux accidentally swapped the panels on which the names were printed.
"JCDecaux has apologised for the error and the billboards were amended as soon as it came to light yesterday," a Visa spokesperson said.
"Shanaze and Stefanie are key members of Team Visa and we have apologised to them both," the company added.
A JCDecaux spokesperson said: "We can confirm that due to human error Visa's billboard was incorrectly posted yesterday. We reposted the site yesterday and apologies for any misunderstanding we may have inadvertently caused."
Visa is sponsoring British athletes as they prepare for a place at the London 2012 Olympic and Paralympic Games.
Four times BMX World Champion, Reade competed in the Beijing Olympics in 2008 but crashed out of the final .
Stefanie Reid won bronze competing for Canada in Beijing before switching allegiance to Great Britain in 2010.