Olympic torch relay: Flame abseils down Grimsby Dock Tower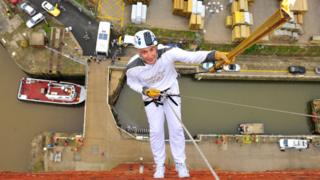 A torchbearer abseiled with the flame down the iconic Dock Tower in Grimsby at the start of day 40 of the Olympic torch relay.
Alan Ellinson, 55, of Stockport, has raised more than £12m for charity through abseiling and zip wire events.
There was an equally spectacular close to the day as the Red Arrows staged an evening flypast over Lincoln.
The journey from Grimsby to Lincoln also marked a month to the opening ceremony of the London Games.
The 112-mile leg of the relay involved 137 torchbearers and included stops in the seaside towns of Mablethorpe and Skegness as well as Boston and Sleaford.
The flame was carried on to Skegness beach by Starr Halley , 15, in her home town.
She was nominated for surviving a brain tumour and surgery when she was 12 years old, after which she had to learn how to crawl, walk and talk. She is now back at school and does charity work.
Britain's most successful weightlifter carried the flame through Lincoln. Louis Martin is a four-time world champion and won bronze for Great Britain in the 1960 Olympics and silver at the Tokyo Games in 1964.
The relay through the cathedral city ended in evening sunshine and with a flypast from the Royal Airforce acrobatics team, the Red Arrows, who left red, white and blue trails in the sky.
Earlier, the RAF also organised flypasts over Skegness and Sleaford.
The Red Arrows will return next month to take part in the London 2012 Olympics' opening ceremony on 27 July.
Other torchbearers on day 40 included:
Arlene Moxon, 31, from Boston, who carried the torch in Skegness. Arlene is a voluntary youth worker, youth leader for her local RSPB Wildlife explorer group and an assistant instructor at a local kung fu class.
Arran Brindle, 30, from Louth carried the flame through Boston. She has over 60 international caps for England's women's cricket team and was an integral part of the 2005 Ashes winning side.
Keith Hebblewhite, 75, from Lincoln, who carried the flame in his home city. He took part in the first London Marathon, raising money for a charity for the terminally ill, and his nomination states he also attracted male-voice choir Morriston Orpheus to Lincoln Cathedral, where they performed to sell-out crowds.
Nicolas Hope, 33, also carried the flame in his home city of Lincoln. He was involved in a project called Stand Up Speak Up, which uses sport to bring young people of different nationalities together outside school.
The last torchbearer of the day was Jules Hanks, 46, from Sleaford, who lit the cauldron at the evening celebration.
The relay travelled through Louth, Legbourne, Withern, Maltby Le Marsh, Trusthorpe, Sutton on Sea, Mumby and Hogsthorpe.
It then went to Ingoldmells Winthorpe, Wainfleet All Saints, Wrangle, Bracebridge Heath before arriving in Lincoln.
The evening's festivities took place at Yarborough sports ground in front of an estimated 10,000-strong sell-out crowd.
As well as performances from local dancers and gymnasts, Loick Essien sang alongside entertainment from dance duo Twist & Pulse.
A total of 8,000 people will carry the flame during its 8,000 mile, 70-day journey to the opening ceremony of the Olympic Games.