Birmingham Airport calls for focus on regions
25 June 2012

From the section

UK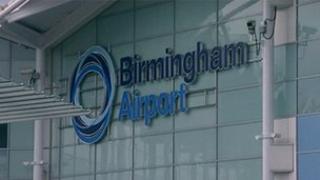 The government is being urged to do more to promote regional airports rather than focusing on developing a hub airport in south-east England.
In a report, Birmingham Airport said it had spare capacity to ease the strain on Heathrow.
It said new, smaller planes that could fly further meant passengers did not need to transfer via big hubs as often.
The government will begin a consultation later this summer on a document setting out aviation strategy.
Heathrow owner BAA is launching a new campaign to get permission to build a third runway at the London airport.
Hub airports, such as Heathrow, cater for substantial numbers of transfer passengers - who do not start or finish their journey at that airport.
For example, this could be someone flying from New York to Bangalore via Heathrow.
BAA, British Airways, Virgin Atlantic, Manchester Airports Group, the Trades Union Congress and the British Chambers of Commerce (BCC) will unveil four tests that they think aviation plans should need to pass.
Extra capacity
Birmingham Airport chief executive Paul Kehoe said it was misleading to suggest that expanding airports in south-east England was the only way to add capacity.
He said regions could help take the strain and that a new generation of smaller planes that could fly further meant passengers would not need to transfer via big hubs as often.
He told BBC Radio 4's Today programme building a third runway at Heathrow was fraught with complications.
"Unfortunately, Heathrow was built in the wrong location - it is a 1946 solution to a 21st Century problem. We need to address that and move on."
"But if we can spread the economic gain for the UK - and obviously the environmental pain - I think we'd have a more balanced aviation economy."
He said the airport was a success because airline Lufthansa had adopted "a multi-hub approach".
"Cities certainly smaller than Birmingham have got very big airports which are adding to the local economies - that's what we could replicate."
The airport has started work on a £40m runway extension which will allow direct flights to East Asia and the US west coast.
Virgin Atlantic chief executive Steve Ridgway said that, in his 11 years in the role, there had been "not a single strategic aviation policy that has met the country's needs".
"Crazy taxation and ongoing indecision on how to deal with the crippling lack of capacity is stunting economic growth and having a strangling effect on tourism," he added.
In its coalition agreement, the government said it would cancel plans for a third runway at Heathrow and refuse permission for additional runways at Gatwick, Sussex, and Stansted, Essex.
The decision followed widespread opposition from councils, residents and green groups. The Conservatives and Liberal Democrats had both opposed the plan in opposition, preferring improved rail links instead.
Labour has also said a third runway at Heathrow is off its agenda.
A Department for Transport spokesman said: "The government wants aviation to grow, but to be able to do so it must be able to play its part in delivering our environmental goals and protecting the quality of life of local communities.
"This summer we will consult on a new aviation policy framework which will set out our overall aviation strategy. Alongside this, we will issue a call for evidence on maintaining the UK's aviation hub status.
"The government's position on a third runway at Heathrow has not changed."