Newspaper review: PM criticised over Carr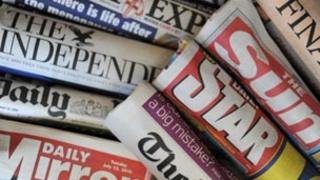 The papers roundly criticise David Cameron for calling comedian Jimmy Carr's tax affairs "morally wrong".
"This is difficult terrain," says the Daily Telegraph , for a man whose family has "had intimate knowledge of tax minimisation techniques".
"It's Britain's incomprehensible tax system that's the most morally offensive," says the Daily Mail .
In the Guardian, Marina Hyde writes that "celebrity obsession" made the PM unable to resist sharing his views.
'Cuts and closures'
A week of negative headlines about tax avoidance are a "game changer", according to the Financial Times .
The paper says one scheme - apparently used by various prominent football managers - could "backfire" and result in a "big bill".
But the Times suggests the tax department, HMRC, could take 38 years to clear a backlog of tribunals.
"Cuts and closures," it says, "have left the taxman unequal in battle against army of accountants".
Ode to Joy
"Discord", says the Financial Times , sums up the mood of the eurozone crisis meeting in Rome, attended by leaders of Spain, France, Germany and Italy.
The trouble, reports the Telegraph , was German resistance to a proposed scheme to share debt.
What happened to the "Ode to Joy sing-along" of past European summits? asks Roger Boyes in the Times .
The Sun shows Germany's Angela Merkel cheering with the headline "Greeks exit Euro"... referring to the football.
'Daring to dream'
The Mail predicts that England's quarter-final against Italy on Sunday will draw a TV audience of 20m "bigger than the Jubilee".
England's secret weapon, according to the Daily Mirror , will be a "peanut protein blast".
It has spoken to the team chef, Tim De-Ath, who says a peanut ball is given to the players at 16:30 and also before bed, at 21:30.
"A nation is daring to dream," declares the Daily Express . "Come on England."