London 2012: IOC's Oswald urges Olympic ticket 'fraud' bans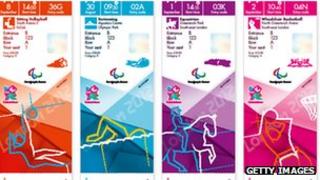 Officials who sold London 2012 tickets on the black market should be banned from the Olympic movement, an IOC executive board member has said.
The International Olympic Committee is investigating Sunday Times claims of corruption involving 27 officials and agents representing 54 countries.
The most in-demand tickets were said to be priced at up to 10 times face value.
"If you know you are breaking rules and still do it, it is unacceptable," said the IOC's Denis Oswald said.
More than one million tickets were distributed overseas among all nations taking part in London 2012 but the IOC has strict rules to combat touts.
It is the responsibility of individual National Olympic Committees (NOCs) to make sure its allocation is sold only within its own country.
The Sunday Times alleged that agents and officials had been caught selling thousands of tickets on the black market.
Responding to the allegation at the weekend, former Liberal Democrat leader Sir Menzies Campbell - a member of the Olympic Board that helps to oversee London 2012 - said any tickets known to have been sold at more than face value should be banned.
Offending countries should not be awarded tickets in future Games, he added.
But Mr Oswald, a former Olympic rower, said that would not be enough.
People who were aware they were breaking rules "should no longer belong to the Olympic movement", he said.
"It is why it is very serious, especially people in situations where they have responsibilities for their own national sport and are prepared to break the rules."
'Individual punishment'
He said there would be differences between cases "and you cannot treat everybody the same".
"But, depending on the result of the inquiry, there could be a sanction that people are no longer accepted in the Olympic movement and therefore they should have no link with sport in their own country."
Mr Oswald, who is also a member of the London organising committee, took part in an emergency IOC meeting in the wake of the Sunday Times' allegations.
They follow the resignation last month of a senior Ukrainian official who was filmed by the BBC offering tickets for cash.
Mr Oswald, who said he thought there would have been similar cases on a smaller scale at all previous Olympic Games, said only the individuals involved should be punished and not the National Olympic Committees.
The issue of sanctions had not yet been discussed by the IOC but it would take the allegations "very seriously", he added.
He said the IOC would consider a dossier of evidence from the Sunday Times detailing the claims.
The paper alleges that it found the corruption after reporters posed as Middle Eastern tickets touts during a two-month investigation.
The IOC has said that it moved quickly "to deal with allegations that some NOCs and Authorised Ticket Resellers have broken rules relating to the sale of Olympic tickets".
"Should any irregularities be proven, the organisation will deal with those involved in an appropriate manner," it added.
London 2012 organising committee Locog said none of the tickets in question came from the allocation to the British public.