Euromillions win earns £63.8m for UK ticket holder
8 June 2012

From the section

UK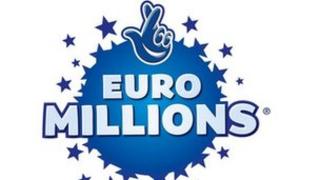 A UK ticket-holder has won a £63.8m half-share of the Euromillions jackpot, the National Lottery has said.
The other winning ticket in the rollover was bought in Belgium.
It is the sixth jackpot win by a UK ticket-holder this year, prompting a National Lottery spokeswoman to say "Lady Luck" was shining on the UK.
The winning numbers in Friday's draw were 5,11,22,34,40. The Lucky Star numbers were 9 and 11. Euromillions is played in nine European countries.
Last Friday six people won £266,505.80 each after matching five main numbers and one lucky star, but no-one was able to match all seven to claim the then £106m jackpot.
The National Lottery spokeswoman said: "Lady Luck is clearly shining down on the UK once again with another big Euromillions win this year - the sixth jackpot win this year.
"We're absolutely delighted that a UK ticket-holder has scooped a £63.8m share of this massive jackpot, alongside one ticket-holder in Belgium."
In February, Cassey Carrington and Matt Topham, both 22 and from Stapleford, Nottingham, won £45.2m on Euromillions.
And in January, Gareth, 40, and Catherine Bull, 35, from Mansfield, Nottinghamshire, won £40.6m.
David and Angela Dawes, from Wisbech, Cambridgeshire, won £101m last October.
The UK's biggest Euromillions prize was a £161m jackpot won by Colin and Chris Weir, from Largs, Ayrshire, in July 2011.
Nine countries - the UK, the Republic of Ireland, Spain, Portugal, France, Belgium, Luxembourg, Switzerland and Austria - participate in Euromillions, with ticket sales from all of them going into the jackpot fund.