Soldier shot in Afghan rescue named
5 June 2012

From the section

UK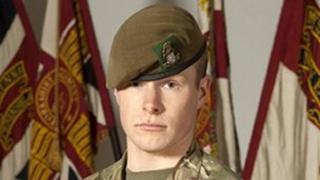 A British soldier killed in Afghanistan during a mission to rescue a kidnapped policeman has been named by the Ministry of Defence.
Pte Gregg Thomas Stone from 3rd Battalion, the Yorkshire Regiment, was shot on Sunday in Helmand province.
The 20-year-old from Hull was hit as he and colleagues rescued policeman Abdul Walid from insurgents.
His death takes the number of British service personnel killed in Afghanistan since operations began in 2001 to 416.
The soldier, who had been in Afghanistan for less than a month, was expecting his first child, his commanding officer said.
His wife, Samantha, said Pte Stone was a "brilliant husband" who loved his family.
"He was always the one to want to make us laugh - he always cheered everyone up. He was proud to be a soldier and for what he had achieved in his work.
"He would also want me to mention his dog Benji, who he loved to bits."
'Our laughing boy'
The soldier's mother Angela, father Robert, brothers Kallum, Jamie and Graeme, and sisters Rosie and Jennie, said he would "always be a true hero in all our hearts".
"Words cannot begin to describe this great loss, and we are exceptionally proud of Gregg for everything he was and still is.
"Gregg was the kindest, funniest, friendliest, most popular lad that you could wish to meet. This is the saddest loss of our laughing boy."
Afghan officials said British troops with colleagues from ISAF (International Security Assistance Force) recovered Mr Walid who had been captured at a police checkpoint in Payan village.
A British soldier was also injured in the operation.
The insurgents escaped from the area but ISAF forces captured one mobile phone, some of the insurgents' documents and explosives.
Lt Col Zac Stenning, Commanding Officer, 3rd Battalion The Yorkshire Regiment, said Pte Stone was a "committed professional soldier" who was "totally selfless and cared deeply for others".
"His colleagues and friends describe him simply and unequivocally as a 'legend', such was his outgoing and upbeat nature," he said.
"His hard working attitude and eagerness to soldier, coupled with his friendliness and compassion, made him the perfect Yorkshire Infantry soldier and we are proud and honoured to have served with him."
Pte Josh Knapton said Pte Stone was his best man at his wedding.
"He could never speak enough about his wife, Samantha, and his wider family who he was very close to. I will miss a true friend," he said.
Defence Secretary Philip Hammond said: "I was sorry to hear of the death of Pte Stone who was clearly a committed, courageous and professional soldier who had made a big impression since joining the Army just two years ago."