Revenue and Customs workers vote for strike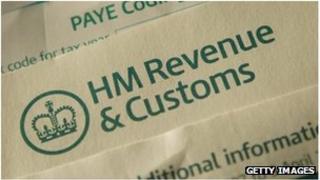 Revenue and Customs workers have voted in favour of a strike in a dispute over job cuts and privatisation.
The Public and Commercial Services union, which has 55,000 members in the department including tax advisers and call centre staff, said 52.8% of 18,300 voters had backed a strike.
The PCS says thousands of planned job cuts make "no economic sense" as they will reduce ability to collect taxes.
Revenue and Customs said it hoped to minimise disruption from any strike.
The PCS is protesting against plans to cut 10,000 Revenue and Customs (HMRC) posts by 2014/15, which it says follow about 30,000 job losses since the department was formed in 2005.
"When reducing the budget deficit is supposedly the government's number one priority, it makes absolutely no economic sense to cut ever more staff from the very department responsible for collecting the taxes that fund all our other public services," said PCS general secretary Mark Serwotka.
"The government should be investing to improve services, tackle the tax dodgers and get our economy back on its feet."
There was a 33.3% turnout for the vote, in which more than three-quarters of voters backed other forms of industrial action short of a strike.
Private companies
The union says it is also opposed to year-long trials using private companies to handle tax credit enquiries at two centres in Lillyhall, Cumbria, and Bathgate, West Lothian.
"At the same time as cutting jobs and closing offices, we have real concerns about creeping privatisation in HMRC, with public money being handed to companies to make a profit," said Mr Serwotka.
A Revenue and Customs spokesman said: "HMRC is disappointed with the decision to strike and will do everything it can to maintain services to the public.
"We are seeking dialogue with the PCS to address their concerns and will work to minimise any disruption to customers in the event of strike action."
From Friday, a series of two-hour strikes are due throughout June by PCS members in the Department for Transport (DfT) including driving test examiners and coastguards.
The industrial action, also involving workers in DfT head office, the Highways Agency and Driving Standards Agency, is in protest at cuts the union says will hit jobs and pensions.
After the two-hour strikes were announced earlier this week, the DfT said it was "disappointed" at the decision while it was still in discussions with the union.
PCS members were among tens of thousands of public sector workers who joined a 24-hour UK-wide strike on 10 May over government changes to pensions.
Doctors have voted to hold a 24-hour strike over pension changes later this month - affecting non-urgent care - which will be the first industrial action by the profession for nearly 40 years.