Diamond Jubilee: Boats prepare to make waves for Queen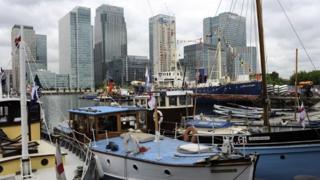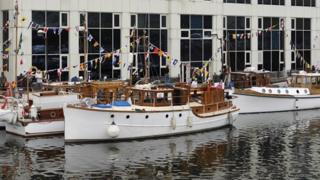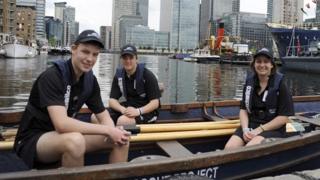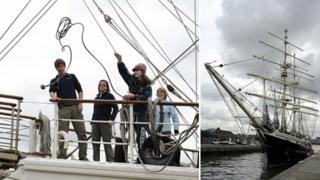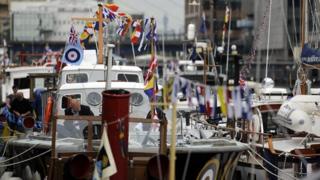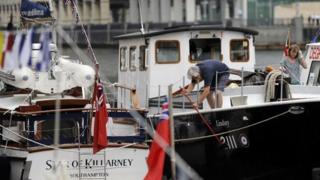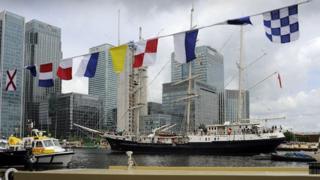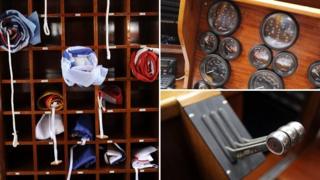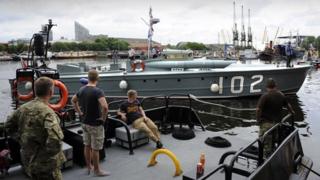 "Only Britain could put on something like this, with the significance that it has got. It is a great honour to be here, and a damn good adventure as well!"
So says Peter Draper, skipper of the Caronia, a 1920s Cornish fishing boat that helped rescue troops from the beaches of Dunkirk in 1940 during World War II.
It has taken him and his 18-year old son Lewis six days to make it from their moorings in Chichester, West Sussex, to London. But they would not have missed it for the world.
Their wooden vessel will be one of about 1,000 boats forming the Thames Jubilee pageant, a flotilla that will sail 13 miles from Hammersmith to the Old Royal Naval College, on Sunday.
The boats have mustered at West India Docks for security checks ahead of their voyage with the Queen and Duke of Edinburgh.
Peter adds: "I have a photograph of me on my old boat with Canary Wharf in the background, it is mind-boggling. I have been texting it to everyone!"
Peter worked for three months solidly to allow himself up to three weeks to take part in the flotilla.
"I think the Royal Family do a lot for this country and that is why I wanted to be here," he says.
"It is very popular these days, almost chic, to be anti-royalist. If you are anti-royal and do not like England or Britain, go and live somewhere else and leave those of us who love this country and still think it has a lot of offer."
The Caronia is one of a contingent of Dunkirk Little Ships invited to take part.
Another, Sundowner, rescued 130 troops from Normandy. At the time she was owned by Cdr Lightoller, the most senior officer to survive the sinking of the Titanic.
Swiftsure I
Among the smallest vessels taking part are two historic rowing boats, which will be crewed by teenagers who have flown over from Malborough, New Zealand.
One of the trip's organisers, Ron Perano, has shipped his own handmade vessel halfway across the world to take part.
"The Swiftsure I is a replica of an open whale boat that first sailed in the 1860s and now lives in the Cathedral Museum in Christchurch," he says.
Ron, who is in his 80s, decided to build the whaler just over two years ago.
He heard about the Jubilee pageant in April 2011 and convinced his wife that he should take part.
But he concedes: "If I had known what was really involved I do not think I would have entered. It was a huge amount of work."
Ron found out on 31 December 2011 that he had a place in the pageant, and the new year brought a frantic fight to raise over NZ $100,000 (£48,000) to get the crews to the UK.
Through fundraising events and donations, the crew collected enough money to ship the Swiftsure I thousands of miles to Felixstowe docks in a 40ft long container.
The whaler and a British boat, the Shackleton, will be crewed by 16 young New Zealanders, all members of different youth organisations.
It is sea cadet Myles McMillen's first time in Britain, and he is relishing the chance to be part of the unique occasion.
"There is a big history behind it, and it is important to have a figurehead [the Queen] to guide everyone.
"There are quite a few people who still believe it is important to keep the monarchy in New Zealand," he adds.
James Keleghan, who is also a sea cadet, was born in the UK but now lives in New Zealand.
"The Queen is a big part of British culture and life, and coming from the UK it is a huge honour to row in front of her," he says.
"There is a bit of anti-monarchist culture around in New Zealand, but there are a lot of British people over there too, so it balances out."
Queen Mother
One vessel with a series of royal connections is the HSL 102, an RAF power boat that rescued 38 airmen from the sea during World War II.
The 64ft long vessel is now moored in Gunwharf Quays in Portsmouth, after twice being launched by Queen Elizabeth, the Queen Mother.
She first stepped aboard in 1941, following the Battle of Britain. When the boat was restored in 1996, it was the Queen Mother who again swung the champagne bottle.
The Thames Jubilee Pageant is a feat of organisation, spearheaded by the Port of London Authority (PLA).
Alistair Gale, the PLA's head of communications, says: "We have been planning this for over 18 months. We have had to identify all the risks and address them."
Mr Gale says most river users in London recognise the event is a "one off", and there has not been too much opposition to the "shutting-down" of the River Thames.
He says: "People are quite happy to roll with it and make their contribution to what will be a unique and special day."