Bali cocaine haul: Accused Briton in hospital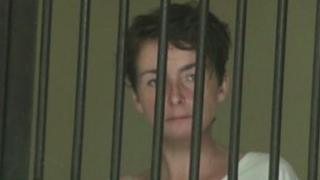 A British woman being held in Bali over a £1.6m cocaine haul has been taken to hospital after complaining of illness.
Speaking to the BBC from hospital, Rachel Dougall said she had insomnia and had not slept or eaten for days.
Ms Dougall was arrested by Indonesian police on suspicion of drug trafficking at the end of May, along with two other Britons and an Indian national.
They were held following the arrest of Lindsay Sandiford, 55, who was allegedly caught with 4.8kg of cocaine.
The drugs were allegedly found stuffed inside the lining of a suitcase when she arrived in Bali.
Speaking to the BBC's Indonesia correspondent, Karishma Vaswani, Ms Dougall said she had been given a sedative on arrival at hospital.
While maintaining her innocence, she also complained that she had not been able to shower, and badly wanted to return home to bathe.
The two other Britons are Julian Ponder - believed to have a young daughter with Ms Dougall - and Paul Beales.
Ms Dougall and Mr Ponder are believed to be from Brighton.
The Foreign Office said UK officials were helping the girl as well as the arrested Britons.
Mr Ponder's lawyer has told ITV News he had been expecting Ms Sandiford to deliver a present for the girl's birthday.
He said his client had been "trapped" by Ms Sandiford and that, when he met her to receive the gift, police officers had arrested him.
Ms Sandiford, meanwhile, has chosen a lawyer which, said our correspondent, was important because it meant a stalled police investigation could resume.
The investigation had been suspended because Ms Sandiford - who will be the first suspect to be questioned - had yet to appoint a lawyer.
Anti-drug laws
Ms Sandiford's lawyer says her defence is that she had carried cocaine to Bali because her sons were under threat.
He said that Ms Sandiford, 55, originally from Redcar, Teesside - whose last known address was in Cheltenham - still feared for their safety.
Indonesian customs officers earlier said the four Britons could face the death penalty.
But officials are also reported to have said that Mrs Sandiford may be spared the death sentence because she helped to catch three other suspected members of the smuggling operation - who according to Indonesian law could face a firing squad.
Indonesia has some of the toughest anti-drugs laws in the world.
The death penalty has been used in the past for drug traffickers, but in recent years it has been applied infrequently.
More than 140 people are on death row in the country, a third of them foreigners.