Queen stamps mark Diamond Jubilee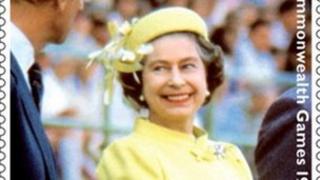 Eight new stamps featuring memorable events of the Queen's reign have been launched to mark her Diamond Jubilee.
They feature images of The Queen performing her official duties both in the UK and on the world stage.
The earliest stamp shows the Queen delivering the first televised Christmas broadcast in 1957.
The most recent shows her inspecting the 2nd Battalion Royal Welsh, as Commander-in-Chief of the UK's Armed Forces, half a century later in 2007.
Other images include the Queen at events to mark her Silver and Golden Jubilees, Trooping the Colour in 1986 and a Garter Ceremony in 1997.
On the international stage, she is pictured making an address to the United Nations in 1957 and at the Commonwealth Games in Brisbane, Australia, in 1982.
Moya Greene, Chief Executive, Royal Mail, said: "The Diamond Jubilee, only the second in royal history, is a very important anniversary. The whole world's attention will be drawn towards this special occasion.
"We are proud to mark the occasion by celebrating the official roles of The Queen with distinctive and memorable images, many of which have not been widely seen before."