Leveson Inquiry: Jeremy Hunt's memo to PM on BSkyB bid
24 May 2012

From the section

UK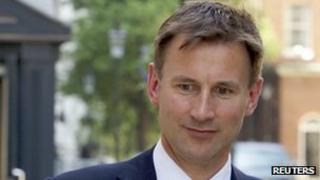 Culture Secretary Jeremy Hunt made representations to Prime Minister David Cameron expressing his support for News Corporation's bid for BSkyB before he was given formal responsibility for the issue.
A draft memorandum was written on 19 November 2010 - the month before Mr Hunt was asked by the government to rule on whether Rupert Murdoch's company would get the go ahead for the take over.
Mr Hunt took over adjudication of the bid decision after Business Secretary Vince Cable was secretly recorded by a newspaper as saying he had "declared war" on Murdoch.
His note was written after Mr Cable ordered watchdog Ofcom to investigate News Corporation's plan on 4 November 2010.
In the memo, the culture secretary wrote that News Corp executive James Murdoch was "furious" about Mr Cable's handling of the matter.
He added that if the move is blocked "our media sector will suffer for years. In the end I am sure sensible controls can be put into any merger to ensure there is plurality".
He added it would be "totally wrong to cave in" to those who expressed concerns over the bid including BBC director general Mark Thompson, Channel 4 and the Guardian newspaper.
Mr Hunt suggested a meeting to discuss "policy issues that are thrown up as a result" between himself, Mr Cable, the prime minister and deputy prime minister.
The presence of the memorandum was revealed by Robert Jay QC, counsel to the Leveson inquiry, as he questioned Mr Hunt's former special adviser Adam Smith.
Mr Smith stepped down from his position on 25 April, saying the "content and extent" of his dealings with News Corp lobbyist Fred Michel had not been authorised by the culture secretary.
Referring to the draft memorandum, he told the Leveson Inquiry that Mr Hunt has "always said he didn't see any problems" with the bid but "didn't want to second judge the process... and he's pointing out what he thought some of the positives might have been in this note".
Downing Street confirmed the prime minister received the memo from Mr Hunt.
A spokesman said the views on the bid in the e-mail were "entirely consistent with his public statement" when he had said in a previous newspaper interview that there were no plurality grounds for blocking it.
Here is the draft text of the note memo from Mr Hunt to Mr Cameron as read out by Mr Jay:
"James Murdoch is pretty furious at Vince's referral to Ofcom.
"He doesn't think he will get a fair hearing from Ofcom. I am privately concerned about this because News Corp are very litigious and we could end up in the wrong place in terms of media policy.
"Essentially what James Murdoch wants to do is to repeat what his father did with the move to Wapping and create the world's first multiplatform media operator available from paper to web to TV to iPhone to iPad.
"Isn't this what all media companies have to do ultimately? And if so we must be very careful that any attempt to block it is done on genuine plurality grounds and not as a result of lobbying by competitors.
"The UK has the chance to lead the way... but if we block it our media sector will suffer for years. In the end I am sure sensible controls can be put into any merger to ensure there is plurality but I think it would be totally wrong to cave into the Mark Thompson/Channel 4/Guardian line that this represents a substantial change of control given that we all know Sky is controlled by News Corp now anyway.
"What next? Ofcom will issue their report saying whether it needs to go to the Competition Commission by 31st December. It would be totally wrong for the government to get involved in a competition issue which has to be decided at arm's length.
"However I do think you, I, Vince and the DPM should meet to discuss the policy issues that are thrown up as a result."