BBC Jubilee strike threat lifted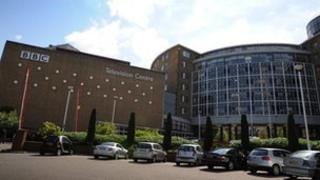 The threat of industrial action by BBC journalists and technicians during the Queen's Diamond Jubilee weekend in June has been withdrawn.
Unions had balloted for a strike in part over a "derisory" pay deal.
But the NUJ, Bectu and Unite unions have now released a joint statement with the BBC saying they had agreed to "key principles" on pay, performance ratings and redeployment.
However, Bectu and the NUJ said the 1% pay offer "remained pitiful".
They said important concessions on future bargaining justified the settlement.
Last month, Gerry Morrissey, Bectu's general secretary, said the decision to call a ballot followed the imposition of a 1% pay rise for staff, with a minimum increase of £400.
In January, the unions asked for a pay increase of 2% above inflation, with a minimum increase of £1,000.
They justified the claim by saying that staff salaries had fallen by 8% behind inflation since 2007.
In Tuesday's joint statement, the BBC and the unions said it was "believed by both the joint unions and management that a continuous pattern of annual settlements which represent a real cut in pay are neither desirable nor sustainable".
However, both sides accepted that this year's 1% offer would not be increased.
The BBC said it was committed to ensuring that pay settlements during the current licence fee period (until 2016) went some way to reflecting the cost of living.
It also assured staff that the annual pay increase would not be linked to performance for the majority of employees.
Strike doubts
Mr Morrissey said in a statement on Tuesday: "There is absolutely no question that the BBC's handling of this year's pay talks will continue to anger staff and what is more, our members, not least in London, will suffer financially.
"However from the soundings we have taken, viewed nationally, pay was not the primary concern and in light of this we doubted the success of strike action over the Jubilee weekend."
In April, Michelle Stanistreet, general secretary of the National Union of Journalists, said the strike action was "not just about pay".
She said the corporation's management team had failed to negotiate on a range of other issues, including a redeployment scheme for staff at risk of losing their jobs.
On Tuesday, she said: "We have been deeply concerned by the failure of the redeployment process, so the settlement today addresses the problem, which we welcome.
"The BBC's stance on pay is disappointing, but the package of concessions on other pay-related issues and appraisals addresses key concerns for journalists across the BBC."
The BBC is now amending its redeployment policy to increase the chances of staff at risk of redundancy finding another role at the corporation.