Metal theft payouts costing insurers '£1m a week'
21 May 2012

From the section

UK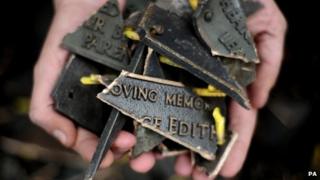 Insurers are paying out more than £1m a week to victims of metal theft, the Association of British Insurers (ABI) has claimed.
The group said UK metal theft had doubled in the past five years to about 1,000 reported incidents a week.
The disruption the crime causes costs the UK economy about £770m a year.
The ABI said metal theft was an "ever-present threat" and it will meet the government and British Transport Police on Tuesday to debate the issue.
Nick Starling, the ABI's director of general insurance, said: "Metal thieves are putting lives at risk, causing expensive damage and massive disruption.
"This is why we are working with the Government to crack down on metal thefts".
Tougher penalties
The association - which speaks on behalf of the insurance industry - said 300 tonnes of metal was stolen per week, which is the equivalent of 300 cars.
Mr Starling said the ABI supports Government action which will make it harder to sell on stolen metal and tougher penalties for offenders.
The Home Office could create a register for scrap dealers - and cash payments could be banned - to make metal transactions easier to trace.
The metal recycling industry is worth £5.6bn and employs 8,000 people in the UK.
Mr Starling said: "From delayed train journeys to loss of telephone and internet connections, to damaged churches, most people are affected by this crime.
"Insurers have a key role to play, not only compensating those insured but in helping their customers take sensible security measures to reduce this ever-present threat."
There have been growing calls for action among the railway industry because the copper used in railway cabling has a high scrap value.
Nearly four million passengers had their train journeys disrupted in 2011, at a cost of more than £16m.
Last week, thieves stole an A3-sized metal plaque erected to commemorate the deaths of two young boys, killed in an IRA bomb attack in Warrington, Cheshire, in 1993.
One of the boy's fathers described the action as "soulless, heartless and very offensive". It is thought the plaque is worth no more than £30.
Elsewhere, drain covers in Birmingham are now forensically marked after nearly 1,000 were stolen in the last six months of last year.
West Midlands Police told the BBC in February metal theft was having a "significant impact" in the region.
A village near Chester suffered a communications blackout affecting homes, schools and the doctor's surgery after thieves stole underground telecom cables.